The season for sharing, caring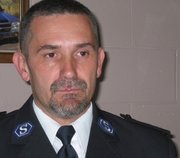 In 1891, a Salvation Army captain in San Francisco resolved to provide a free Christmas dinner to the area's poor. But how would he pay for the food?
From his days as a sailor in Liverpool, England, the captain remembered a large pot, displayed on the Stage Landing called "Simpson's Pot" where passersby would toss charitable donations.
The captain presented his idea to city authorities and received permission to place a similar pot at the Oakland ferry landing at the foot of San Francisco's Market Street. In this conspicuous position, the pot drew the attention of people going to and from ferryboats. Another urn in the ferryboat waiting room also attracted donations. From those humble beginnings, a tradition was launched that spread not only throughout the United States but around the world.
The Salvation Army has always been there to help those less fortunate at Christmas. Last year, we received applications from 145 families for Christmas assistance. All the applicants that met our guidelines were given food baskets and presents for their children.
Others included in our Christmas assistance were low-income senior citizens and area nursing home residents. In total, we served more than 1,008 individuals last year.
But the Salvation Army is more than just Christmas assistance. The Leavenworth Salvation Army has been here for 108 years to assist people within the Leavenworth County area throughout the year with help with their utilities, rent, food, clothing, furniture and occasionally medicine.
Six times a year, in partnership with Kansas Social and Rehabilitation Services, we distribute commodities. In addition to our social services, we have an on-site day care for children ages 2.5 to 12, a youth night for at-risk children, a senior citizens group and church services at 11 a.m. every Sunday.
We are currently beginning our busiest time of the year, Christmas. The money we raise at Christmas accounts for nearly 30 percent of our annual operating budget, including Christmas expenditures.
However, because of the rising costs of everything from gas to food and utilities, coupled with a decline in donations, it is getting harder and harder to stretch our resources for assistance. We are afraid that before long we are going to be in a "Catch-22" situation. Do we use more of the money collected for Christmas and cut back on services during the rest of the year? Or do we cut back on Christmas assistance in order to help more people the rest of the year? It's a hard decision and one I hope we don't have to make.
This year, our bell-ringing activities started last week and will continue through Dec. 24. We ring our bells from 9 a.m. to 9 p.m. Monday through Saturday at Kmart and Dillon's and weekends at Wal-Mart. In addition to our bell-ringing activities, several businesses in Leavenworth have Angel Trees. These trees have angels for both children and senior citizens. Anyone wanting to help an underprivileged child or senior citizen may do so by adopting an angel and supplying the Christmas wish on the front.
The Salvation Army also has many other activities taking place during this time of the year.
Last weekend, we had a coat distribution for people needing a coat for themselves or other family members.
We also will be visiting the nursing homes in the county starting in December. During these visits, we meet in the common areas to sing carols, share a devotional and give each resident a token of the season.
On Nov. 24, we are sponsoring a turkey drop-off day. We are hoping to collect at least 75 turkeys to help with our Christmas baskets this year. Anyone who wants to help may donate a frozen turkey at Price Chopper, Fourth and Marion streets; Food 4 Less, 20th and Spruce streets; or Davis Funeral Chapel, 531 Shawnee St.
Because need knows no season, the Salvation Army was here yesterday, is here today and, with your help, will be here tomorrow to let those in need know that someone cares.
Chuck Cook is Salvation Army corps administrator for Leavenworth County