Longtime volunteer dies at 51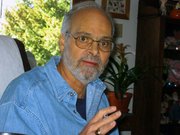 Mike Neve, Lansing's 2004 Volunteer of the Year, died Monday at his home. Neve, 51, suffered from cancer.
A deputy warden at the Lansing Correctional Facility, Neve was active in the Lansing Lions Club, Knights of Columbus and the Lansing chapter of PRIDE.
John Bennett, a member of Lions Club and PRIDE, knew Neve for about 22 years. He said Neve had a hand in most of the activities put on by the two groups, but the project that most excited him was the Lansing DAZE car show.
"He probably had the biggest smile on his face welcoming cars into the antique car show each year," Bennett said.
Bennett said that Neve was a great asset to the community.
"He was excellent for ideas to help promote the community and getting them up so they were functional," Bennett said.
Projects Neve organized included Lansing DAZE, refurbishing bicycles for Lansing and Leavenworth police departments and collecting glasses and hearing aids to donate.
David McKune, warden of Lansing Correctional Facility, had known Neve since 1977. McKune called Neve dynamic, energetic and involved.
"Overall, every day Mike was a very outgoing, outspoken, energetic guy," McKune said. "Everything he did he approached with enthusiasm."
Mr. Neve was born July 14, 1953, in Quebec, Canada. He was adopted at age 2 by his parents, Robert and Ida Neve.
He attended Wichita State University, where he received a master's in criminal justice.
Mr. Neve worked with the Kansas Department of Corrections for more than 27 years, 22 of those at the Lansing Correctional Facility.
He was a member of St. Francis de Sales Catholic Church, a life member of the Lions Club, Lansing Knights of Columbus, 4th Degree, and Lansing PRIDE. He had been Lions Club past district governor and currently was state membership chairman.
He married Marjean Snelling on July 26, 1976, in Aston, Pa. She survives of the home.
Other survivors include daughters Jennifer Neve, Pittsburg, and Dawn Neve, Topeka; and his father Robert Neve, Lansing. Mr. Neve's mother died earlier.
Visitation will be 6 p.m. to 8 p.m. Friday at R.L. Leintz Funeral Home in Leavenworth, where a prayer vigil will be recited at 7 p.m. Friday. A Mass of Resurrection will be celebrated at 10:30 a.m. Saturday at St. Francis de Sales Church. Burial will follow in Mount Calvary Cemetery.
The family requests memorials to Lions Leader Dog Program for the Blind or to the church's Building Fund, sent in care of the funeral home, 4701 10th Ave., Leavenworth. Written condolences may be made at leintzfh.com.