Giving thanks for a child's wish that came true
For Brooke Mortsolf, here's the memory.
It's Florida in October. Seven-year-old Brooke and her family are on what once seemed an impossible trip to Disney World. At the Magic Kingdom, when the Mortsolfs are almost ready to leave, Brooke finds her favorite cartoon character, Ariel, from "The Little Mermaid."
Brooke had seen other Disney characters throughout the day, but her mom, Tamra, said even an autograph from Mickey Mouse didn't make Brooke's face light up the way it did when she met Ariel.
Photo Gallery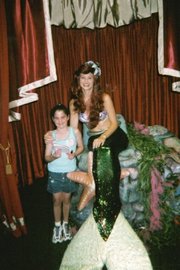 Mortsolf's Make-a-Wish trip to Disney
The Mortsolf family took a trip to Orlando October 3 to 8 because of the generosity of the Make a Wish foundation.
Now back at her home in Lansing, Brooke and Taylor fight to rehash their trip as Brooke turns the pages of her Disney World trip scrapbook with the gloves on her hands she wears as a result of her condition. Brooke points herself out in the many pictures she and her family took with Ariel. She's the one beaming the biggest in all of them.
"She was so nice," Brooke says. "She talked to us and took pictures with us."
This is the memory the Mortsolf family cherishes this Thanksgiving season.
It came with the help of the Make-A-Wish Foundation and the generosity of Pizza Hut. And it gave Brooke the chance, despite severe health problems, to be a child experiencing her dream.
Brooke's mom, Tamra, can't say enough about the help they received to give Brooke her dream trip.
The Make-a-Wish foundation paid for airfare to Florida, housing in a villa in the Make-a-Wish village, spending money, souvenirs and gifts throughout the week.
"With all of our doctor bills, there is no way we could have afforded this trip," Tamra said.
Those medical bills have been almost constant for the Mortsolfs since Brooke and her identical twin, Taylor, were born four and a half months early. A lengthy hospital stay was just the beginning of what would become more than a million dollars in medical bills.
Brooke had a severe bout with pneumonia in the summer of 2003, which led doctors to diagnose her with a rare combination of connective tissue diseases, juvenile rheumatoid arthritis and secondary Raynaud's disease, which causes poor circulation in the fingers, toes, ears and nose. Brooke's illness prevents her from being outside in cold temperatures, she keeps gloves with her at all times and has a space heater at school.
A trip to Florida and its temperate climate was ideal.
Before the Mortsolfs left Lansing in October, the Make-a-Wish foundation sponsored a dinner for Brooke and her family at Lansing Pizza Hut. When general manager Chuck Morrison found out the Mortsolfs were coming to his restaurant, he told the family to fill the restaurant, feeding more than 50 people (and 15 pizzas). Terry Ruder from Pizza Hut's management company, WKRP, donated $500 in spending money for their family.
"It was like Christmas," Tamra said.
At Disney World, being a Make-a-Wish kid allowed Brooke and her family special access to many of the attractions and badges that let them go to the front of the line.
"At first I felt bad cutting in line, but especially after Brooke got sick, we wouldn't have been able to ride the rides if we would have had to wait," Tamra said.
After their first day in Orlando, a day packed with parades and pictures with dozens of cartoon characters at the Magic Kingdom, the Mortsolf's itinerary made an unexpected alteration with a trip to urgent care when Brooke became ill.
Despite getting sick, Brooke enjoyed as much as she could, her mother said. The magical atmosphere of the trip helped Brooke cope.
She let Morrison know that after the trip.
"Even if she was having a bad day, at least she was somewhere she could forget about it," Morrison said.
While Brooke tried to forget her pain during the trip, Tamra helped her four children remember the good times. They all made scrapbooks of pictures and mementoes from Disney World.
Although Brooke has her bad days, especially right after her Saturday treatments, she explodes with energy around the house, usually outlasting the Mortsolf's 11-month-old puppy, Chevy.
And although the Disney trip has ended, Brooke still has her local supporters.
The Lansing Pizza Hut invited the Mortsolfs back for a monthly family dinner. Morrison said that he hoped Pizza Hut could continue to be active with the Mortsolfs through the holidays and in the future.
"It's a great way for us to keep tabs on what she's doing," Morrison said.
All four of the Mortsolf children have made their Christmas lists. Both Brooke and Taylor picked Barbie toys as the gift they want the most. The twins look forward to breakfast with Santa, making paper link chains to hang on their tree, sprinkling reindeer food (glitter) on their lawn, and Chevy's first birthday, soon after Christmas.
As Thanksgiving 2004 approaches, Tamra said her family was especially thankful for the Make-a-Wish foundation and Pizza Hut for their generosity.
"We could never give them what they gave to us," she said.