Strange day in 5A leads to same result for
LHS

volleyball
Shawnee — Of Lansing High volleyball coach Julie Slater's 500-plus career victories, the Lions' Class 5A sub-state semifinal win against Wyandotte at Mill Valley High School may have been the strangest.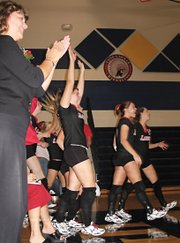 LHS (30-5) was heavily favored to earn a state berth considering it was the only team in its bracket with a winning record, but the Bulldogs didn't even bother showing up to challenge the Lions.
Wyandotte coach Terri Johnson drove to Mill Valley to inform Slater that only four of her players showed up in time for the team bus to depart Saturday morning, and therefore she didn't have enough players to field a squad.
"It was weird just having to play one match," Slater said. "It did not feel like sub-state for me. For 20 years I've been in sub-state with eight teams and you don't know who you're going to end up playing and who's coming out of the other side (of the bracket) and usually there's two or three teams that have good records."
The process was different than in years past as Lansing played just one match, but the result felt very familiar. The Lions defeated Topeka Highland Park, 25-11, 25-18, to advance to their first 5A state tournament after making four straight showings in Class 4A.
"It feels great," she said. "It's awesome. We're going to state!"
Slater said the move to 5A didn't elevate the pressure on her to win. It actually alleviated it. Her players still rose to the occasion, however.
"I have not felt the pressure whatsoever this year," Slater said. "It's been nice because for really three years I've had heavy pressure. We're expected to big things. And this year: it's been awesome."
It's also been a bit unexpected. Slater doesn't have her most talented team, but she said it is as hard-working of a group as she's ever coached. Rarely has the squad lost focus. Instead, it has shown up to play every day and has plowed through opponents just like previous Lansing squads did.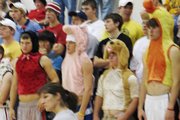 Saturday was no exception. Following the forfeit victory, Lansing regrouped, shook off the confusion of not playing a scheduled match, and unleashed their nervous tension on Highland Park.
The Scots played with plenty of emotion and never seemed fazed by Lansing's superior talent and tradition. Still, that youthful determination was no match for Lansing's experience and skill. The Lions blocked as well as they have all year, passed efficiently and hit for a high percentage while controlling every phase of the match.
Lansing received contributions from everyone on its roster, beginning with junior Casey Welch. Welch, one of two remaining members from the 2002 state championship squad, pounded a team-high 12 kills and added two blocks. Senior Tiffany Turner also provided a clutch performance as she had nine kills and an astounding eight blocks. Senior Ashley Brooks added seven kills and senior Emily Goodlin chipped in four kills, two blocks and four digs.
"Everybody does their part," Slater said of her squad's well-roundedness. "Each and every player, they have a role and they all support."
Tecumseh Shawnee Heights (30-7) earned the other sub-state title played at Mill Valley, defeating the host school in the other sub-state final.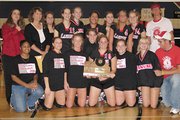 Both Lansing and Shawnee Heights will travel to the Topeka Expocentre Friday for the state tournament. They will be joined by Bishop Miege (38-1), Gardner-Edgerton (19-18), Wichita Bishop Carroll (28-6), Wichita Kapun Mt. Carmel (35-2), McPherson (38-1) and Newton (30-10).
Lansing will begin pool play at 4:30 p.m. Friday against Carroll. It also will face Gardner-Edgerton at 6:30 p.m. and two-time defending champion Miege at 7:30 p.m. The top two teams from the pool will advance to Saturday's semifinals.