Fort's commander promoted
Fort Leavenworth — The commanding officer at Fort Leavenworth is getting a promotion and moving to Fort Monroe, Va.
Army Lt. Gen. William S. Wallace, has been nominated to the rank of general and assignment as commanding general, U.S. Army Training and Doctrine Command, Fort Monroe, Va.
The nomination, which is subject to U.S. Senate approval, was made by President Bush and announced Tuesday by Secretary of Defense Donald Rumsfeld.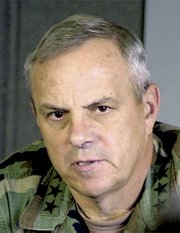 "I am very humbled to be nominated for this appointment and assignment to serve as commander of the Army's Training and Doctrine Command, and I look forward to the continued opportunity to serve America in the global war on terrorism," Wallace said in a prepared statement.
David Howey, Fort Leavenworth's public affairs officer, said it was not clear when Wallace's new assignment would take place.
Training and Doctrine Command operates 33 schools and centers at 16 Army installations. It is responsible for all of the Army's basic training and combat training centers.
Wallace, who assumed command of Fort Leavenworth on July 14, 2003, was commissioned in 1969 after graduating from the U.S. Military Academy at West Point.
Immediately prior to coming to Fort Leavenworth, he commanded U.S. ground forces during the 2003 invasion of Iraq until June 14, 2003.
Howey said there has been no word yet from the Pentagon on Wallace's replacement at Fort Leavenworth.