Lansing couple ready to resume Lewis
&

Clark trek
Lansing residents Bill Stewart and Lynette Trotter are getting ready for a monthlong trip down the Missouri River.
Most wouldn't call it a pleasure cruise. Their nights will be spent in tents alongside the Big Muddy. But the experience, to them, is so remarkable that it's the third consecutive year the couple has decided to pack up and join others following the same path forged 200 years ago by Meriwether Lewis and William Clark.
"The majority of it is a lot of fun," Stewart said in an interview at the couple's home. "You do get tired, as everyone does, of the wet. You get tired of the heat. You get tired of the bugs, followed by more bugs, followed by more heat."
Those hardships, though, are more than offset by the history the couple get to experience first-hand, the lessons they learn, the lessons they teach, the sites they see and the people they meet along the way.
Two years ago, Stewart and Trotter joined the Discovery Expedition of St. Charles, Mo., in tracing Lewis and Clark's expedition from Elizabethtown, Pa., to Camp DuBois, near Wood River, Ill. A year ago, they went from Camp DuBois to Fort Mandan, N.D. This year, they're backtracking, from South Sioux City, Neb., to St. Louis.
The Discovery Expedition of St. Charles, Mo., is a nonprofit group dedicated to rediscovering the history of Lewis and Clark's river journeys. Group members, including Stewart and Trotter, are celebrating the bicentennial of Lewis and Clark's expedition. They wear authentic period dress, travel in replicas of the explorers' keelboats and pirogues, and take on the persona of members of the expeditionary crew.
Trotter says the couple's involvement with the Discovery Expedition is "her fault."
In 1996, Discovery Expedition founder Glen Bishop of St. Charles, Mo., was taking a replica keelboat on its maiden voyage from St. Charles to St. Joseph, Mo. One of its stops was in Leavenworth, where it caught the interest of Trotter, then an art teacher who was looking for new and different subject material to draw.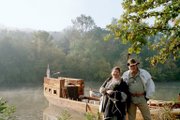 Trotter went down to the river and started drawing. One of the crewmembers noticed her and asked her to draw a portrait for a journal he was keeping. She did, and did the same for three others.
"Finally, one of them said, 'If you had a costume, you could come with us to St. Joe,'" Trotter recalled.
Little did they know of her past involvement with the River City Community Players. She went to the theater group, got a period costume and made the trip to St. Joe.
With the Lewis and Clark bicentennial events just around the corner, she got Stewart involved. Since then, they've been on the Discovery Expedition in each of the past two years: Stewart as a Frenchman, Charles Caugee, an experienced boatman or "engagee"; Trotter as "an unnamed woman," since Lewis and Clark's journals generally are void of women's names, except for Sacagawea.
Stewart, in his role, travels the river segments on a replica pirogue, a 39-foot-long vessel that carries supplies for the keelboat. Trotter isn't allowed to travel by boat because it's historically incorrect, so she rides in a support vehicle, fetching groceries and setting up camp daily.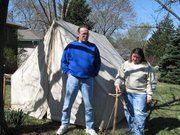 In between the river travels, the Discovery Expedition members set up education stations to teach the locals about Lewis and Clark.
"I discuss journaling, writing, recording and drawing with a feather quill pen and powdered ink," Trotter said.
One of her most memorable stops was at Standing Rock Indian Reservation in Cannonball River, N.D., where she taught an art class to all the fifth- and sixth-grade students there.
"The Indian part of this has just been fascinating," said Trotter, noting that she's a member of the Cherokee tribe while Stewart is of Choctaw descent. "We've met people from so many tribes, and there have been so many things that I've learned from other native people."
This year, as happened 200 years ago, the pirogues are making their way back to St. Louis, so that's the route Stewart and Trotter will take. In 1805, the pirogues were filled with the journals, pelts, animals and other discoveries made by Lewis and Clark. From St. Louis, the bounty was shipped to President Thomas Jefferson at his Monticello, Va., home.
Stewart will be on one of the pirogues to St. Louis. This year, Trotter also will be allowed to ride onboard since there are journal entries about an Indian chief's wife who made the trip.
"There was a whole boatload of people who came back to St. Louis," Stewart joked.