Jackson is
LHS

golf's first lady
Maria Jackson stands out when she steps onto the golf course as a member of the Lansing High golf team.
Jackson is a girl playing on the boys' team, so her mere presence draws plenty of attention each time she tees off.
"The people I've played with so far, they haven't had a problem with me being a girl," she said. "They've been very nice about that."
Jackson hopes one day she'll be recognized on the course for more than just her gender, though. She wants people to know her because of her golf game - which, if you ask her teammates, is very good.
"I think it's great because you see the other teams look at her and say, 'Oh, it's a girl,' and then you see her go out there and beat them or contend with them," LHS senior Chris Nelson said.
An easy transition
Jackson said she hasn't been fazed by anything since joining the boys' team this spring, be it inquisitive looks from opponents, people doubting her game or the elevated level of competition. That's because she's been playing against boys her entire life.
The LHS freshman has been playing golf for as long as she can recall. Her father, Dr. George Jackson Jr., began teaching her how to play 14 years ago when she was just an infant living in Manhattan. George Jackson taught both of his children - Maria and former LHS golfer David Jackson - the basics of chipping and putting. Family trips to the golf course were a regular occurrence throughout her childhood as she competed against her father and brother.
"That's why it's not hard for me to play with guys and I don't have any pressure there," she said. "Actually, it's kind of hard for me to play with girls because my dad taught me to play like a guy, supposedly, so it's hard to play with girls because they hit so short."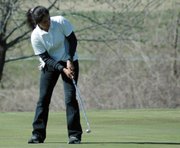 For years the Jackson men beat Maria, but George Jackson said his daughter has turned the tables on him in recent months.
"She's kind of harder on me because she beats me lately," he said with a chuckle. "She doesn't give me a break."
She doesn't take it easy on her high school opponents, either. George and Kathy Jackson can regularly be found cruising the golf course in a cart watching their daughter from a distance.
"She puts a smile on my face," George Jackson said. "She's just a freshman and she needs to focus a little bit, but she'll be alright. I'm proud of both of my kids, and I supported both of them when I had David out here. Golf is a game they can play all their lives."
Finding acceptance
Nelson, the Lions' lone returning state medalist, said the golf team was thrilled to have Jackson join. He said the fact she was a girl never bothered anybody because she held her own with her golf game.
"It's not a huge deal that she's a girl," Nelson said. "You want to beat anybody, so she's making the team more competitive this year. It's good that the team is somewhat strong this year, and she may even place later down the road."
Although Jackson said her male opponents didn't seem to have a problem with her being a girl, it was her power off the tee that seemed to open the most eyes.
Saturday at the Sunflower Hills Invitational, Jackson was paired with Austin Bond of Piper and Ed Samek of Bonner Springs. Jackson outdrove her male counterparts numerous times and spent the most time in the fairway. If not for some glitches with her chipping and putting, she likely would have medaled at the tournament.
"They usually just joke around and say 'Oh, I just got beat by the only girl," but it's not threatening or anything," Jackson said of the guys' reactions. "It doesn't hurt me."
Working out the kinks
Jackson has been among Lansing's top three golfers at all three varsity meets so far, but she said she's not content with the way she has been playing.
Her first two rounds were in the 90s before she fired an 89 on Monday at Gardner-Edgerton, good for 36th place out of 88 golfers.
"I'm hoping to do a lot better," she said. "I'm hoping to be in the 70s more, which is what I usually shoot. I just want to do a lot better. But this is a learning year for me while I get used to everything."
LHS coach Bill Pekarek said he is confident Jackson will find her touch during competition soon. She's still working out some kinks and is adjusting to the pressure of high school tournaments. She'll turn it on soon, though, and then people will see that her game is legit.
"In practice (last week) she shot a 5 over par," Pekarek said. "She has played at 6-over and 7-over. She had a couple of big rounds here in the last couple weeks, but yet she shot 5-over just the other day.
"When she puts it together," Pekarek added, "she can play with anybody. I don't know if she's feeling anything from playing in a guys' tournament, but if she gets it together like she can, she can play with anybody, any guy."