LHS

soccer shows promise early in season
Lansing High girls' soccer coach Rob Elkins opened the 2005 season searching for a new starting goalie, but both candidates' development may be getting hindered slightly because of the Lions' offensive success.
LHS has raced to a 3-0 start this season and outscored its opponents 9-2 during that span. The two goals the Lions have allowed came in the season-opener to Mill Valley, but in the next two games - a 4-0 win Thursday at Harmon and a 2-0 victory against Ottawa at home on Tuesday - Lansing's foes have struggled to attempt a single shot.
That means freshman goalkeepers Lauren Elkins and Katie Nietzke haven't have many chances to experience the pressure of being a high school varsity goalkeeper.
"I don't have to have a starting goalie," said coach Elkins, Lauren's father. "If I've got two that can do the job, that's fine. I just need to get them both the type of experience where they can get placed in goal-scoring situations. They each had one or two opportunities tonight, which isn't much for an 80-minute game."
Elkins has split time between his keepers, with each playing three halves so far.
"I'll just keep swapping them in and out," he said. "They both are playing pretty much equally. Each of them have different strengths, but they both are able to do the job."
Thanks to the LHS midfield and forwards, there has been very little pressure on the freshman goalies and the veteran defense thus far. To that extent, Elkins is pleased. He said his players are executing the offense properly, however he has been disappointed that they haven't scored more goals.
Seniors Jessica Hauver and Monique Richardson each scored goals in Tuesday's win against Ottawa, but the Lions hit the crossbar three times and missed more than a dozen shots from close range. That has been the story of all three games so far.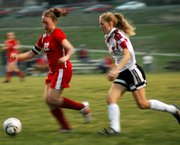 "We just need to learn to finish the goals," Hauver said. "We've had a lot of opportunities. The ball was down on that end of the field the entire time."
Elkins said it still was early in the season, though, and he was convinced the shots would start finding the net as the season goes on.
"The offense is working," he said. "The players are clicking together. It's just those near opportunities, and we get a lot of those. I guess the more chances we get, the more we'll get at them and pretty soon those will become automatic."
The Lions will have their next chance to put away some shots at 6 p.m. tonight when they travel to De Soto. The junior varsity will play first at 4:30 p.m. The Wildcats are a first-year program, so the Lions know little about them.
"I gues they have the home field advantage," Elkins said of De Soto. "I know nothing about their team, but you saw how our offense is clicking. I pretty much see our offense controlling the tempo of the game."