Two guys, one goal
Senior doubles duo sets sights on state
Shawnee — Lansing High tennis seniors Chris Bristow and Chris Hancock were under the impression that if they earned a trip to the Class 5A state tournament this year, then LHS would change the time of its graduation ceremony for them.
"If we go to state they have to move graduation, so it's a little added incentive to make everybody change their plans because we go to state," Bristow said Friday after he and Hancock placed third in No. 1 doubles at the Mill Valley Invitational.
Not so fast, school administrators say. LHS moved graduation four years ago for an athlete, but LHS Principal Steve Dike said the school had become too large to force nearly 160 seniors and their families to change their May 21 graduation plans on such sort notice.
"The ceremony is not going to get moved," Dike said. "We tried several years ago and we actually did move it to that evening, and it was a real inconvenience to find the right time to have it. We set (graduation) a year ago, and that's when we'll have it."
Baccalaureate will be May 20 and the graduation ceremony will be the following morning. The tennis state tournament will be March 20-21 at Kossover tennis courts in Topeka.
Bristow and Hancock may be forced to choose between events to attend, but before any schedule juggling takes place, they first will have to earn a state berth. That's something they've been chasing as a doubles duo since sophomore year.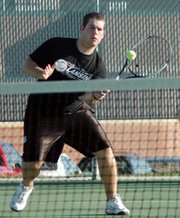 Ever since they were first paired together three years ago, Bristow and Hancock have been virtually inseparable on the tennis court.
"I played a little singles last year because he was injured at the beginning of the season," Bristow said, "but then an opportunity arose for us to get back together, and we jumped at it."
As sophomores they fell just shy of a state berth. The same thing happened when they came within one match of going to state as juniors - a loss to eventual state champion Topeka Hayden derailed the duo once again.
"It was kind of dramatic," Bristow said of the close loss to Hayden. "If we would've won, we would've gone to state."
The pair had all offseason to think about the near misses and refocus on their senior season. They looked back at their careers and decided that despite all of the success they'd had together, one piece of the puzzle still was missing.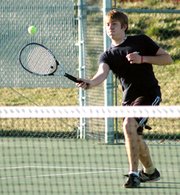 "State is the big goal," Hancock said. "It's senior year. You've got to finish big."
They're off to a good start at achieving that goal. They lost their first match of the season, 6-3, to Shawnee Mission North but responded with six straight victories at Mill Valley. They might have made it seven in a row and placed first if not for a last-minute format change that eliminated semifinal matches and kept them from having a chance to avenge their lone loss.
Among their six victories was a marquee win over Hayden.
"They defeated a Hayden team, which is always good because they won state the past two years," LHS tennis coach Bryan Shelley said. "That's a confidence-builder."
The pair plans to ride that early wave of success into match with Paola at 3 p.m. today in Gardner. Meanwhile, the rest of the Lions plan to learn from their senior leaders and try to emulate their success.
"The other guys look up to those guys," Shelley said. "I'd say the main reason they're leaders is (No. 2 doubles players Matt Warner and Shawn Jung) can be just as good, but in practice they can never beat them, so they really look up to those guys. They strive every day to beat them, and that's making us a lot better."