Twins celebrate birthday, donate gifts
Tamra Mortsolf had not planned on having a big party for her twin daughters' eighth birthday.
"We've always had extravagant parties in the past, but this was the year that we were not going to do a big party," Mortsolf said. She said the girls had planned on each taking a friend to go see Monsters Inc. on Ice.
Then Terri Ruder, the regional manager for Pizza Hut, offered to sponsor a birthday party at the restaurant for Brooke, Taylor and all of their friends. Brooke was selected to be a Make a Wish Kid last year because of her severe health problems, and since then, Ruder has offered to play host to the Mortsolfs for special occasions like when the family went on its Make a Wish trip to Florida, Christmas and the twins' birthday.
Since its own birth in Wichita in 1958, Pizza Huts have been a popular place to have a birthday pizza party, and the restaurant's franchise in Lansing is no exception.
In the past two weeks, five people have celebrated their birthdays at the Lansing Pizza Hut, 406 N. Main St. In a typical month, it has anywhere from 10 to 15 parties, Sarah Robinson said.
Robinson, Leavenworth, is a server at the Lansing Pizza Hut and works with many of the parties that come into the restaurant.
"It helps makes a birthday more of an occasion," Robinson said.
Although most people celebrating their birthday at Pizza Hut are five to 10 years old, Robinson said she could remember a birthday party for a 95-year-old at the restaurant.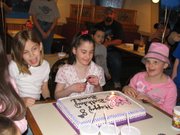 "It was a little surprising," Robinson said.
The restaurant likes to give the birthday boy or girl a present by providing balloons and cookies for the group, along with a special deal that can include free drinks, salads or unique specials on pizza. Partiers can bring own cakes, but the restaurant has cakes on reserve just in case.
Upon request, servers sing "Happy Birthday" to the birthday celebrant and put a birthday message on the outdoor marquee.
The sign is usually changed two times each week to handle the amount of requests for birthday salutations, although it is not necessary to have a party in the restaurant to be recognized on the sign.
To make reservation for a birthday, the restaurant requests one day notice.
Mortsolf said her daughters and their guests enjoyed the Pizza Hut party. Sixteen of the girls' friends and their families came to the party and devoured seven pizzas and two full-size cakes in just over an hour.
"Everybody had a great time," Mortsolf said. "It was a hit."
Since the family had not planned on the party, Mortsolf gave Brooke and Taylor the option of donating gifts to a local charity. She said the girls enthusiastically chose the Leavenworth animal shelter.
"They were just as excited opening gifts and pulling out a dog bone as they would have been if it was a toy," Mortsolf said.