Web masters
LHS

class to redesign school's Web site in fall
The world of technology is notorious for being in a state of constant change. Who better knows that than the Integrated Media class at Lansing High School?
So it's not surprising that co-group leader junior Chris Rohan and the other students in the class are eagerly waiting to update Lansing High School's Web site.
Next year, they will unveil a new design, which they say will be more uniform and easier to navigate in comparison to LHS's current site.
"We're going to put all of our creative ideas into the new school Web site," Rohan said.
The class currently is divided into two groups. One is in charge of LHS athletics on the Web site; the other, LHS activities and academics. Senior Carolyn McKune is the group leader in charge of the athletics portion of the site. This is McKune's third year in the class. Rohan, in his second year, currently leads the group tending to the academic and activities portion of the site. They also are responsible for developing sites for Lansing Intermediate School. Jeff Andrews, Lansing school district technology coordinator, develops the Lansing Middle School site, and Lansing Elementary School Principal Tim Newton spearheads development of his school's Web site.
Rohan said the new design of the LHS site will be a conglomeration of many ideas.
Although a site redesign requires a lot of work, Dan Wessel, class instructor, expects his students to have no trouble handling the lofty goal.
"I'm amazed what kids can accomplish in five 50-minute classes each week," Wessel said.
He is especially impressed with the abilities Rohan has shown in the class.
"Chris scares me with what he can do," Wessel said. "Students can usually learn how to work with these programs a lot faster than I can."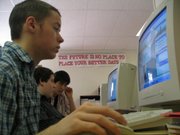 Wessel, who also teaches TV production classes, finds the Integrated Media class unique in comparison to the other media classes.
"This class requires more continuous work than most classes," Wessel said. "The work is never done."
Despite the constant flow of work, the class does not sacrifice its creative energy.
"They are not just worker bees, they get to contribute on many levels," Wessel said.
The class began about eight years ago as a class that teachers could come to if they wanted to include a multimedia project for their classrooms. Class members also used to produce the course descriptions document for LHS each year.
Four years ago, the class began developing LHS's Web site - a move that helped the class better live up to its name.
"The Web site lends itself to a lot of different opportunities to integrate media," Wessel said.
In addition to developing the Web site, the group also is charged with updating it frequently. Each student has to contribute at least 25 pictures throughout the semester and create an element using Macromedia Flash, a multimedia computer program. Students use many programs like Fireworks and Dreamweaver to build the pages for the site.
Attention to detail is a vital aspect to keeping the Web site updated, which students do as often as needed.
"If there is a game, usually the information is up that night or the next day," Wessel said.
District patrons are appreciative at the class's coverage of LHS.
"People enjoy being able to look at pictures of their groups and events that take place at the school," McKune said.
She views this as a compliment but also a challenge.
"With so much information, we get new problems to solve every day," McKune said. "It's a part of the learning challenge: overcoming problems."
Although both McKune and Rohan agree the skills they have learned in the integrated media class have given them practical real-world experience, they both have aspirations to one day attend law school. McKune will attend the University of Kansas in the fall while Rohan will return to the class he finds to be both interesting and fun.
"It's hard to find classes you actually like to go to," Rohan said. "I am always willing to go there because there is always something you want to do."