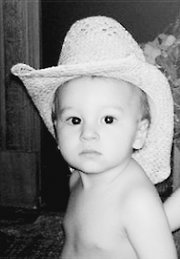 Adam Allen turned 1 year old on Feb. 5. He celebrated his Elmo birthday with family and friends at his home.
Adam's parents are Don and Missy Allen of Leavenworth. Adam's grandparents are Donnie and Norma Runnebaum of Leavenworth and Fred and Janet Smith of Fort Scott. Adam's great grandma is Narsisa Hernandez.
Adam has one brother, Andrew, 4.