Firefighter training gets hot
Volunteers receive hands-on lessons
Leavenworth County Rural Fire District No. 1 firefighters didn't have to go far Saturday morning to find a fire.
Bill "Toad" Schwindamann brought the University of Kansas Fire & Rescue Training Institute's burn trailer to them.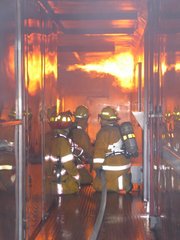 The volunteer firefighters went through a training exercise, extinguishing fires inside the burn trailer, which was in the parking lot outside the Fire Station No. 1, at Kansas Avenue and Main Street.
Schwindamann helped T.J. Huhn, the district's training officer, lead his first group of students in the exercise, which helped the 24 firefighters in training get first-hand experience fighting fires in the home.
The trainees, 16 from Lansing and 8 from other parts of the county, practiced fighting basement fires, stove fires and bedroom fires. Firefighters from Fairmount, Sherman, Tonganoxie and Kickapoo townships, plus the city of Leavenworth attended the training.
"Most firefighters' deaths happen while fighting basement fires," Schwindamann said. "It's the most dangerous fire to fight because there is only one way out."
Some of the tactics firefighters practiced included descending down stairs the correct way, on the outside of the stair instead of the middle. It is safer to avoid walking down the middle of the stairs because that is usually the weakest part of the stair structurally, especially during a fire, Schwindamann explained.
The Kansas Fire & Rescue Training Institute usually leads similar exercises about every other day throughout the state. The training is free for fire departments. It is funded by a tax on fire insurance policies written in Kansas.
A week ago, Leavenworth County Rural Fire District No. 1 underwent rapid intervention training where firefighters learned how to rescue their comrades in case of an emergency. Next week the 24 firefighters will wrap up their training by taking a test.