Larson-Chapman
Engagement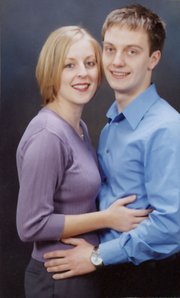 Col. and Mrs. Brian Larson, Lansing, announce the engagement of their daughter, Lindsay Ann, to Justin Allen Chapman, son of the late June Chapman and Mike and Kelley Chapman of Hopkinsville, Ky.
The future bride is a 1998 graduate of Lansing High School and a 2002 graduate of Kansas State University, and she will graduate in May from St. Louis University School of Law. She has accepted a position as a labor attorney at a St. Louis law firm. She is the granddaughter of Elna Lundell, Livingston, Wis.
The future groom is a 1998 graduate of Dyer County High School, Newbern, Tenn. He completed undergraduate studies at University of Tennessee at Martin and is currently attending Logan Chiropractic College in Chesterfield, Mo. His is the grandson of Herman and Midred Bradford, Newbern, Tenn., and Jerry and Jane Chapman, Hopkinsville, Ky.
The couple will be married Aug. 27, 2005, at Memorial Chapel, Fort Leavenworth.