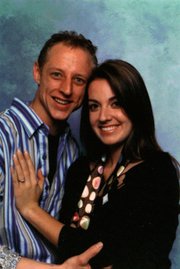 Dr. and Mrs. Timothy L. Sanz, Lansing, announce the engagement of their daughter Katie L. Sanz to Cory W. Green, both of Lawrence.
The future bride is a 1998 graduate of Lansing High School and a 2002 graduate of the University of Kansas with a Bachelor of Fine Arts degree. She is employed by U.S. Toy Co., Grandview, Mo., as a graphic artist.
The future groom is the son of Mr. and Mrs. William Green of Leavenworth. He is a 1995 graduate of Leavenworth High School and attended Mid American Nazarene University. He is employed by Custom Highline, Lawrence, as a reconditioning manager.
The couple plan a July 23, 2005, wedding at the Church of the Nazarene, Leavenworth.