Shelter schedules pet adoptions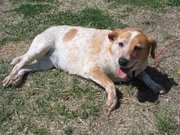 Leavenworth Animal Welfare Society will hold pet adoptions from 10 a.m. to 4 p.m. Saturday at Leavenworth Animal Control Shelter, 1720 S. Second St.
Pet adoption fee is $40. Cats and dogs will be available.
One available pet is a female Britney-Spaniel mix, at left. Her number is 05-270A.