Hundreds turn out for spring cleanup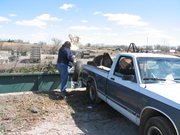 A steady stream of pickup trucks, vehicles toting flatbed trailers and cars stuffed with debris made its way into the Leavenworth County Transfer Station over the weekend for Lansing's annual Spring Cleanup.
When all was said and done, residents had filled 18 30-cubic yard containers with everything from discarded toys to yard waste and furniture.
Becky Savidge, building inspector, was at the site early Friday afternoon and said residents had been taking full advantage of the free event.
"We've had people drop off construction materials, furniture, broken tree limbs, tires, batteries, paint, toys : you name it," she said.
"One guy had two truckloads of stuff that he brought. He said he was divorced last year and just decided this was the right time to clean everything out."
In addition to the residents who came out to the Transfer Station to drop off their unwanted articles, the city made stops at 14 houses in town whose infirm or elderly residents had arranged for trash pickups.