Couple's foreign adoption nightmare becomes dream
Though she called some parts of her international adoption experience "a nightmare," Melissa Menzel said she would do it all over again.
"It was all worth it," she said.
Menzel and her husband John recently completed the adoption of their 7-month-old daughter Maria from Chiquimula, Guatemala.
John and Melissa call the process of adopting Maria, which started when Maria was just days old, "our labor." It involved red tape, setbacks and a lot of waiting.
"Her labor was painful in a different way," Melissa said.
John added, "I even got to go through some of it."
The Menzels started the paperwork to become adoptive parents last August. Melissa found a girl named Nina on the Web site Precious.org, which lists children from 15 countries who are available for adoption. When the Menzels started the paperwork, Nina already had been adopted, but her agency was able to match the Menzels with Maria, who had just been born.
After the paperwork, the Menzels took part in a home study, background checks and physical examinations. They had to provide references and were fingerprinted by the FBI. Even after they were approved once as adoptive parents, they had to repeat some of the steps to gain further approval.
Melissa said gaining approval from the adoption agency was only the first step. Paperwork had to be sent to the U.S. Embassy in Guatemala for review. After waiting to hear from the embassy, Melissa said she started researching and found their application had been approved for a month, but they had not heard about it because the embassy had their lawyer's e-mail address wrong.
Once that situation was sorted out, the Menzels' case was chosen for a random investigation, Melissa said, which took another two weeks.
After waiting so long, Melissa said she and John grew weary of the agency's promises - they were told they would have Maria by Christmas, then by New Year's, but both holidays came and went without the new baby.
"They always promise you tomorrow, tomorrow, tomorrow, but tomorrow never came," she said.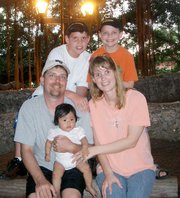 Melissa said one reason the couple chose to adopt from Guatemala was because the baby could be escorted to the U.S. by the adoption agency. This was a lucrative option because she and John are self-employed and therefore have few days off, she said.
However, after the months of waiting, the Menzels scheduled a trip to visit their daughter. What was supposed to be a weekend visit turned into a two-month stay for John.
Melissa explained that seeing their daughter brought the reality upon them so strongly that they couldn't leave.
"When you see the pictures, you're kind of like, 'OK,' but when you go and hold her, it's 'This is my baby,'" she said.
The morning they were to leave Guatemala, the Menzels decided that John would stay and take over as a foster parent until the adoption was complete. He stayed in Guatemala with Maria from Jan. 27 until her adoption was complete March 17. They flew home the next day.
John said living in Guatemala was a challenge. Aside from raising a newborn by himself, he didn't speak any Spanish.
"I did a lot of hand gestures at first," he said.
After two weeks renting an apartment, John and Maria moved to a bed and breakfast while they waited for the adoption to become final. At the bed and breakfast, he met two women who were also in the process of completing their adoptions. He said having someone in the same situation but further along provided a lot of help, "plus someone to talk to," he said.
Photo Gallery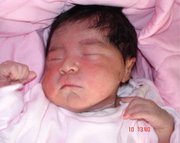 International adoption
Photos of Maria Menzel and her new family.
While he was there, John bought a Web camera to use with the bed and breakfast's computer so Melissa could see him and Maria every day.
Another setback came when Maria's official papers listed her name as Mario. John said that took another week to correct, but they finally left Guatemala on March 18.
Since the arrival of their new daughter, the Menzels said both they and Maria have adjusted well. They also said Maria has taken to her new brothers, Austin, 9, and Brett, 10.
Looking back on the process, the Menzels said they certainly would adopt again. They plan to give Maria a sister, also from Guatemala, in about two years, after they have had time to bond with Maria. However, they said they would not use an agency next time and instead send John back to Guatemala to foster the child during the adoption.
"I'm all ready to start the next process. I'd start it tomorrow," Melissa said. "I'd have five more if I could. I'd have 10 children. But we'll stop at four."