Fifth-graders meet baseball pros
Fifth-grade students at Lansing Intermediate School pitched their best questions earlier this week to Kansas City T-Bones manager Al Gallagher and Northern League umpire Ralph Willcott.
Gallagher and Willcott were in town Monday to visit with students about the importance of education and hard work. Their appearance was a reward for students for completing their Kansas Assessment Tests.
The two baseball professionals answered a variety of questions from students, ranging from "How do you know if somebody has taken steroids?" to "Have you ever been hit by a bat before?" The pair good-naturedly answered all of the questions, but not until each had taken the opportunity to tell students why they enjoy their jobs and how hard work in the classroom helped them get to where they are today.
"You've got to have a dream, and you've got to have a passion for what you're doing," Willcott said, explaining how his dream of playing professional baseball changed to wanting to be an official.
The main attributes umpires are tested on is their TAP - timing, attitude and positioning, said Willcott, the older brother of LIS teacher Debbie Beall. Timing involves how you do your job, Willcott said. Attitude refers to the approach, and positioning ties it together.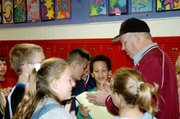 "Put yourself in position to be in a greater position in life in the future by working hard now," he said. "It doesn't matter what you want to do. Just put yourself in better position to get there by working hard and paying attention."
Gallagher's speech echoed those sentiments. The 40-year veteran of professional baseball and former sixth-grade teacher told students they could approach attending school in a similar fashion to how they would approach playing baseball: with a positive attitude and a desire to learn.
"The teachers at school are the coaches," he said. "The principal is the manager. It's no different than on the ball field."