Volunteers clear trail at Kelly Grove Park
Kelly Grove Park may be Lansing's newest park but it already has received upgrades thanks to the 2005 Leadership Leavenworth-Lansing class, a program for community members that is run by the Leavenworth-Lansing Area Chamber of Commerce, and Fort Leavenworth Boy Scout Troop 66.
Class members recently organized people from the community to clear 1,200 linear feet of new eight-foot-wide trail to the pre-existing 1.5 miles of trail.
Kelly Grove Park, one block east of Kansas Highway 7 on Gilman Road, is a plot of land that was donated to the city by the family of Lansing native Cathy Carnahan Nichols. The park is part of an effort to create a citywide trail system.
"It's an ongoing effort to attach all those areas," said John Jacobson, Lansing's community development superintendent and a member of the class. "The trails are used quite a bit, and what's going to happen is all the trails in town are going to be interconnected, so we're going to be soliciting volunteers to help expand that in the future."
The Kelly Grove project was the first step toward completing the city's trail system, Jacobson said. He said about 25 people worked on the project, including members of the Leadership Leavenworth-Lansing class and Boy Scouts from Fort Leavenworth Troop 66.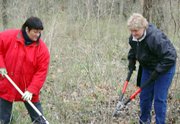 The Scouts' involvement was part of John Whittamore's Eagle Scout project. Jacobson credited Whittamore's leadership with helping complete the trail upgrades.
Lansing Parks and Recreation director Jason Crum worked in conjunction with the class and provided the necessary tools and materials to finish the trail.
Jacobson said the additional 1,200 feet of trail - which constitutes a second loop at the park - will provide walkers with better views.
"It's down in the floodplain area, so it's a little more scenic," he said. "In my opinion, you get a little bit better look over the entire park area (from the new trail) because you have creek overlooks. Several vistas were put in. We cleared out tops of creeks so people could walk out there. You can't get nearly that close to the water on the top loop."