LMS

earns standard of excellence
Lansing Middle School Principal Kerry Brungardt says he's 99.9 percent sure that LMS achieved the Building Standard of Excellence in all five areas tested this year. And for that, he's awarding all of his students a day off.
The Building Standard of Excellence is awarded based upon assessments from the state. Schools that meet the state standards of the minimum percentage of students in the five categories - exemplary, advanced, proficient, basic and unsatisfactory - receive the standard of excellence.
Areas assessed this year were sixth- and eighth-grade social studies, seventh-grade math and science and eighth-grade reading. Brungardt said the school tested all areas on computers this year and received preliminary results as soon as testing days were finished. By doing a little math, he and his teachers found out that they had more than likely achieved the standard. However, he kept the results a secret from the students until a Tuesday afternoon pep rally.
Brungardt said middle school-aged students respond well to incentives, so he promised each grade a day off if the class achieved the standard of excellence in at least one category. He said it brought out class pride - each-grade wanted the other two to have to go to school while it had the day off. All of the grades earned the day off, which will be May 16. Teachers will work that day, but Brungardt said it would be a relaxed atmosphere with a barbeque lunch.
In addition to earning the standard of excellence, two areas assessed had no LMS students in the unsatisfactory category, which were eighth-grade reading and sixth-grade social studies. Brungardt called the accomplishment "remarkable."
Brungardt said he wanted to give the students the day off because they were pushed so hard to achieve, and he said people sometimes forget to recognize achievements.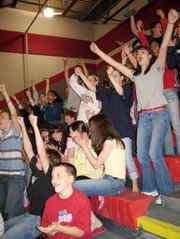 "We've got to remember to celebrate the good times," he said.
Brungardt said he didn't know of any schools in the area that had attained the standard of excellence in all areas since the assessments were rewritten in 2000, but "I'm going to do a lot of checking," he said. He also said he would ask around at a meeting of area principals on Friday.
Brungardt attributed some of his school's success to the fact that the teachers' curricula were aligned with the standards set by the state, which gives a timeline of when to teach what subjects. That way, students are prepared at the right times for what will be asked of them on the assessments, he said.
In addition, he said faculty would look at areas of weakness in the assessment scores and teach those areas in all subjects. For example, he said, if the concepts of mean, median and mode were a weakness, they would be taught in math, art, social studies and other subjects to give the students more exposure to the concepts to potentially bring those scores up.
Official preliminary results of the assessments will be posted by the state in mid-May. Final results will be announced in October.