'

Wheeling' to riches
Fortune strikes players from area
Kansas City, Mo. — Lansing-area mother and son Eileen and Sean Willcott bonded this past weekend when they appeared as teammates and contestants at a special taping of "Wheel of Fortune" in Kansas City.
They won't be bonding in Mazatlán, Mexico, the destination of a trip they each won on the show. Sean Willcott, who is getting married in September, will use the trip for his honeymoon; Mom, Eileen said, isn't welcome then.
"When we won it, I said to him, 'There's your honeymoon!'" Eileen said. "And he said, 'You're not coming!'"
The Willcotts, of rural Leavenworth, and Alison Dessert, of Lansing, each had the opportunity to spin the big wheel this weekend as contestants on "Wheel of Fortune."
The long-running game show came to Kansas City to film episodes for the first time. Five shows a day were taped on Friday, Saturday and Sunday at Bartle Hall.
Representatives with the show first came to Kansas City in October with the Wheelmobile, an RV outfitted with a traveling wheel and puzzleboard, to recruit contestants.
The weekend tapings featured Kansas City-themed elements on the set. The background represented the downtown skyline, and a video screen behind the contestants showed footage of Kansas City's famous fountains.
The Willcotts and Dessert all had tried out in October at the Wheelmobile.
The Willcotts were contestants on an episode during Mom and Me week, which will run May 2-6, the week before Mother's Day.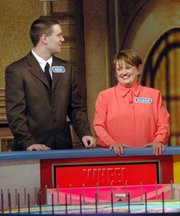 Eileen said she was fortunate she didn't have to choose a show partner from among her eight children. Several of her children had tried out for the show, but only Sean was called back.
Producers had contacted Sean, a Kansas State University senior in engineering and a 2000 Lansing High School graduate, in March to try out for Big 12 week on the show. He had indicated on his application that he also would be interested in appearing with his mom for Mom and Me week.
Eileen then received a call to try out for Mom and Me week but was cut in an early round. She said she had been sure she wouldn't be on the show, but she was still happy for Sean.
However, "Wheel" called about two weeks ago to tell her she would be a contestant. Eileen said a representative from the show told her they knew she would be on the show when they dismissed her during tryouts.
The Willcotts fared well on the show. They won most of the rounds and earned more than $28,440, including $9,600 apiece in cash, before the final round, when a mother and daughter from Louisburg surpassed them to become the episode's "winners."
The Willcotts, longtime "Wheel" watchers, said the show they appeared on would be broadcast May 4. Eileen said she probably would have a watch party with her family.
Dessert, 27, said she has watched "Wheel of Fortune" for most of her life. She said her mom let her and her siblings watch the show because she thought it was educational. Dessert was a contestant on a Kansas City Week episode, which taped Sunday. Her show will air May 10, she said.
Dessert said persistence paid off in securing a spot on the show - she went to three stops of the Wheelmobile in October before being called onstage for a practice game.
Dessert said she read a book called "Winning on the Wheel: An Unofficial Guide to Getting On and Winning at the Wheel of Fortune" and used a "Wheel" game to pick up strategies and practice.
Photo Gallery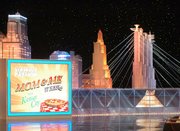 Wheel of Fortune
See photos from the set of "Wheel of Fortune" in Kansas City.
Though she found both resources helpful, she ran into bad luck with the wheel at her taping. Her spins twice landed on "Bankrupt" and once on "Lose a Turn." Though she came in last place on the show, she won $8,800. But she wasn't too disappointed.
"If last place is almost $9,000, I'll take it," she said.
She said her main objective was to enjoy the experience.
"Yeah, it's fun to win a lot of money, but I was just focusing on having a good time," Dessert said.
Dessert said she was well taken care of the day of the taping. Contestants were not allowed to bring cameras or cell phones; in fact, they could only talk to the show's staff and other contestants. However, Dessert said the face-to-face time paid off. When she was playing, she said she felt like she was playing against the wheel instead of the other players, so she could be happy for them when they won a round.
Dessert said most of her winnings would be used to pay bills, "as boring as it sounds," or possibly a new couch.
"It could be our 'Wheel of Fortune' couch," she said.