Lansing has roots in city
They may not be the namesakes of Lansing, but Tracie Lansing's family has deep roots here.
Tracie Lansing bought the home she lives in now from her parents. Her parents completely renovated the house 12 years ago, but the land and barns still preserve the history. Lansing's great-grandparents built the home more than 100 years ago, she said. Her daughter, Samantha, is the fifth generation of the family to live in the house.
Growing up in Lansing, Lansing said she was asked frequently about her name.
"People used to call me 'Lansing from Lansing,'" she said. "It's kind of neat. It doesn't bother me."
Lansing has called Lansing home for her entire life, except for the five years she spent as a student at the University of Kansas.
While at school, Lansing spent two years performing as Baby Jay, one of the school mascots.
Lansing recalls many highlights from her days as Baby Jay. In 1993, she was on the floor of the Louisiana Superdome in New Orleans when the KU men's basketball team went to the Final Four. Being a mascot also led to her national TV advertising debut when she appeared on ESPN with the Louisville Cardinal mascot.
After graduating from KU, Lansing said she thought she would be a lawyer but instead took a job in Leavenworth that encouraged her to go back to school to get her master's degree.
"It's the only way to be respected by colleagues in anything to do with child welfare issues and healthcare programs," Lansing said.
Now she works to prevent child abuse and neglect across Kansas.
April is Child Abuse and Neglect Awareness Month. Lansing will help with a march against violence April 22 in Kansas City, Kan., at Quindaro Elementary School, and she encourages people to wear navy blue ribbons in honor of the month.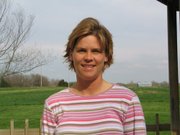 Name: Tracie Lansing
Address: 25815 155th St.
Occupation: Social worker, Kansas Children's Service League
Graduate of: University of Kansas, bachelor's and master's from School of Social Welfare
Family: Daughter, Samantha, 4 years old
How long have you lived in Lansing? I was born and raised here with an exception for the five years I was at KU.
What do you like most about Lansing? I like the fact that it is a small-town atmosphere. I also have a lot of friends and family close by, a lot of support.
What do you like to do to relax? I like to play a volleyball and softball with friends, play with my daughter and ride horses.
What would surprise people about you? I was the Baby Jay mascot for two years at the University of Kansas.
What is the best advice you have received? Do what makes me happy.
What organizations do you belong to? National Association of Social Work Licensures, University of Kansas Alumni Association.