Soccer still perfect
Defense to be tested Thursday night by
KCC
Given the fact that the Lansing High girls' soccer team is undefeated, the focus automatically has been placed on the offense, which has scored so far 12 goals this season.
Although the offense receives much of the credit for the early success, plenty of accolades for the 4-0 start also should fall on the LHS defense for allowing only two goals all year.
"We're starting to call them the steel curtain now," LHS coach Rob Elkins said of his defensive unit.
Since holding off Mill Valley, 3-2, in the season-opener on March 29, the Lions have posted three straight shutouts and faced minimal threats from their opponents. Midfield domination has been a key factor in the shutout streak, but stingy defense should be credited as well.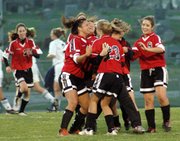 Elkins said he has had plenty of confidence in his experienced defensive unit, which includes senior Christine Southard and sophomores Michaela Bristow and Elizabeth Cristiano.
Elkins also had plenty of praise for the defense's newest player, freshman Abby Hauver.
"She's a veteran now," Elkins said of her play. "She has stood up to the task. She goes forward at the right time. She goes to the ball when she's supposed to go to the ball. She covers when she's supposed to cover. She's a really good addition back there and we've made a good choice putting her back there."
There was a little bit of concern early that the defense wasn't being tested much. Mill Valley posed a staunch test in the opener, but the Lions rarely faced a shot in the victories over Harmon and Ottawa. They were challenged a handful of times by De Soto during a 3-0 road victory on Thursday, though. They bent a few times, but never broke as they posted their third straight shutout.
"Your defense needs to be tested," Elkins said. "They need to be stressed so what we practice in practice gets an opportunity to be applied on the field."
Southard, a four-year varsity player, said the De Soto game was a great tune-up for the challenge the Lions will face during their 4:30 p.m. home game today against Kansas City Christian. KCC (2-1-1) won last year's contest, 2-0.
"It's going to be really big," Southard said. "KC Christian is a team we've always looked at as one of the biggest teams we want to go against. From the beginning, since we started in 2001, they have been the team to go against."