LHS

senior clears hurdles, wins medals for track team
Basehor — Few aspects of coaching make Errol Logue happier than seeing an athlete succeed after years of hard work.
That's why the Lansing High track coach was smiling Friday night at the Bobcat Relays at Basehor-Linwood High School. Errol was ecstatic to see senior hurdler Ethan Nalker bring home a medal haul for the second straight meet.
In four years as a varsity hurdler, Nalker never had medaled until April 5. Now he's at four and counting.
"When he was a freshman, he could hardly see over the hurdles," Logue said, "but he just kept working hard, and how he's having some success. It's really neat to see."
Sore calves slowed Nalker during his first meet of the year, and he placed fifth in the 110-meter hurdles at the Baldwin Invitational. He rebounded at the Lansing Invitational, however, as he blazed to second-place finishes in both the 110 and 300-meter hurdles on his home track and collected his first two varsity medals.
"My times aren't all that bad right now," Nalker said. "I PR'd (personal record) at the home meet for the 300s. I've done pretty good throughout the year so far."
He wasn't finished, though.
Friday at Basehor he picked up two more medals - a silver in the 300 hurdles and a bronze in the 110 hurdles. His coaches raved about his gritty effort, especially in the 110s where he squeaked out third place by six one-hundreths of a second against Jeff Hughes of Tonganoxie.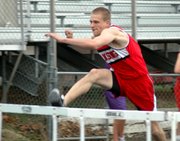 "He was the last guy out of the blocks and the last guy over the first hurdle," Logue said, "but he caught the pack."
An experienced veteran, Nalker said his starts are his weakness and he said he knows he can run faster if he improves his burst from the blocks.
"I'm planning on getting a few seconds off my time by working hard and getting better out of the blocks," he said. "I know what's killing me right now is getting out of the blocks."
He still has room to improve, but Nalker said he is savoring the success he has worked for so long to achieve.
"It feels pretty good right now," he said. "Throughout high school there have been a lot of really good runners from Tonganoxie and a few good guys from Lansing, but they left now. It feels good to be able to do good and actually place now."
Logue said he has been pleased with the steady improvement of most of the Lions during the early meets this season. A few names he continually has mentioned as making great progress have been freshman sprinter Mike Griffin (fourth place in 100 meters at Basehor), sophomore sprinter Chris Mann, junior Amanda Radovich (three second-place finishes in the javelin), senior Tiffany Turner (shot put) and senior Sara Eustice (pole vault, sprints).
The Lions have the week off before returning to action April 21 when most of the squad will travel to Louisburg. Three Lions - Eustice, Radovich and Turner - will compete April 22 at the KU Relays in Lawrence.