LHS

soccer thumps Basehor
Pride, Griffen, Manago score twice in victory
Basehor — The Lansing High girls' soccer team lost its first game of the season Monday at Mill Valley, but on Wednesday the Lions made sure their losing skid didn't reach two.
The Lions scored just 2:27 into the game and the rout was on.
Lansing 7, Basehor-Linwood 0.
"We talked to Coach (Rob) Elkins yesterday," senior Kendra Sickinger said, "and he told us to keep our heads up and that (the loss) is over and done and that we need to keep moving forward."
LHS took a huge step forward Wednesday.
Lansing (6-1) opened the game on the offensive and never let up. Freshman Rachel Pride buried a goal in the third minute when she beat the goalkeeper one-on-one. The Lions continued to dominate the midfield as Rachel Pride, Erin Griffen and Kristen Huffman didn't let the Bobcats across the center line.
LHS constantly peppered the Basehor goal. In the 12th minute Sickinger sent a perfect cross to sophomore Bianca Manago who buried it into the net from six yards out for a 2-0 lead.
Basehor tightened up defensively for the next 20 minutes but Lansing never let up. The Lions continued to attack. Griffen ended any hopes the Bobcats may have had of making a comeback when she scored twice in 69 seconds late in the first half.
LHS led 4-0 at halftime, but the Lions weren't through scoring. Pride netted her second goal of the game 50 seconds into the second half off a pass from senior Monique Richardson. Richardson then added a goal two minutes later off a pass from Sickinger. Manago added a final goal with 13 minutes left that put the victory on ice.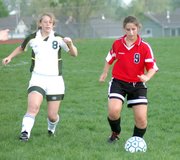 The Lions logged their fifth shutout of the season with 4 ½ of them credited to freshman keeper Katie Nietzke.
LHS played its second straight game without head coach Rob Elkins. Elkins was in Texas for his father's funeral and is expected to be back Friday. In the meantime, assistant coach Don Dubberley has been filling in. He said he feeling comfortable in the head coaching role because he has been well-trained under Elkins.
"I was ready for it," Dubberley said. "I'm ready for a challenge and we're having a good time with it.
"Coach Elkins has a good program going. I've been here at Lansing for five years now both with the boys and the girls so I know what his program is like, so we're doing a good job."
Lansing played drastically better than they did during their 2-1 loss Monday at Mill Valley, and it was important for them to play well in their bounce-back game. They needed to look sharp heading into their 6 p.m. game Thursday at rival Piper. The Pirates (4-2) are much improved over their three-win campaign of a year ago, so the Lions needed to be clicking on all cylinders entering that game.
"Last year's Piper team has totally, totally turned around," Dubberley said. "(They have) good freshmen that came up, fast freshmen, and they have good scorers. We're going to have to shut 'em down."
JV falls in final minute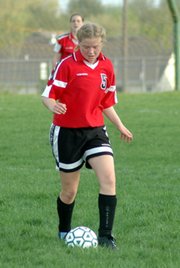 The Lansing High junior varsity squad suffered its first loss of the season Wednesday when Basehor-Linwood scored on a penalty kick with 42 seconds left.
The squads played two 20-minute halves on an overly narrow field. The field dimensions seemed to throw off the Lions' passes a bit and they never landed a good strike on the ball to try to score.
LHS dominated the pace of play but simply couldn't finish its scoring opportunities. Sophomore Heidi Schultz applied plenty of pressure from the left side and freshman Christine Cordes and sophomores Chris Villarreal and Abby Livingston-Shelburne had their chances inside but were unable to score.
The JV Lions next play at 4:30 p.m. Thursday at Piper.