Goodlin among Lansing's volleyball elite
Versatile senior to take her game to Johnson County next year
Plenty of college volleyball coaches courted the skills of Lansing High senior Emily Goodlin this fall, but that came as no surprise to LHS coach Julie Slater.
She saw it coming long ago.
"I saw her play for the first time in seventh grade and I knew it then," Slater said of Goodlin, who signed Tuesday to play volleyball at Johnson County Community College. "She had great instincts, and she just was all over the court. I knew it then."
It was at that early age that Goodlin was just beginning her volleyball endeavors. She was playing for Northeast Elite, a program Slater was leading to teach players the fundamentals of volleyball.
"She basically has been the reason I've played," Goodlin said of Slater. "She's the first person who introduced me to it."
Their relationship has led to numerous successes on the volleyball court. Goodlin was a starter on the freshman team in her first season at LHS, but her final three years she was a mainstay in the varsity starting rotation.
Goodlin helped the Lions capture the 2002 class 4A state championship - the storied program's first title - as a sophomore. She guided LHS back to state as a junior and senior, with the 2004 trip marking the school's first in class 5A during what was supposed to be a rebuilding year.
"Emily was the team leader," Slater said. "She was the team captain. Usually the girls will elect who they look to the most for the leadership aspect, and she definitely was the team leader."
Goodlin's statistical resume is impressive in itself: two Kaw Valley League titles, three sub-state titles, a state championship and a 102-14 career record.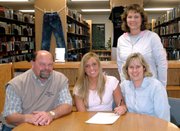 "She's every coach's dream," Slater said. "Her effort, her coachability, her leadership: just everything. You can depend on her that she'll give it her best."
It's the history of success throughout her time at Lansing that Goodlin said attracted her to JCCC. Goodlin is accustomed to winning, and the Cavaliers have done plenty of that during Jill Stinson's eight years at the helm. Stinson's squads are 209-99-1 during her tenure, including a 27-5 mark in 2004.
"I went to a tryout and right off the bat I felt like I would fit in with their program," Goodlin said. "I was looking for a team that would be competitive and successful, because that's what I'm used to with Coach Slater's program."
Goodlin said she is excited to begin playing again after taking the winter off to play basketball for the Lions. She said she has missed volleyball during that time. As much as she loves the game, though, Goodlin said she is unsure if she will look to pursue playing at a four-year school once her two years at JCCC are done.
"I'll see after these two years," she said. "I think after these two years I'll be ready to give it up and be OK with it. Just not yet."