Baseball heats up
Lions improve to 4-2
The Lansing High baseball team may be a couple of weeks behind its opponents in terms of in-game experience, but despite cancellations and rain-outs, the Lions already are looking sharp.
The Lions improved to 4-2 on the season when they snapped Santa Fe Trail's eight-game winning streak Monday night. SFT took game one, 14-1, but Lansing responded with an all-around solid performance in game two for an 8-2 victory at the LHS baseball field.
The win against the Chargers came on the heels of a double-header sweep of Bonner Springs last week where junior pitcher Chris Wagner baffled the Braves with a one-hitter in the first game and junior Jeff Terrill smashed two home runs.
LHS coach Terry Stueve said that he was proud of the way his players have been competing thus far but that they still have some work to do. The primary area of concern is consistency. The Lions haven't played a good game one and game two all year - it has been either-or all season.
"We just need to string two together now," he said. "We haven't played a good two games all year."
Lansing struggled in its season-opener against Mill Valley but was solid in winning game two on April 7. They won 11-0 in the first game against Bonner but had to rally for a 16-13 win in the late game.
On Monday, the Lions had just one hit in the game-one loss to SFT before clicking in all phases of the game in the nightcap.
Still, Stueve said he wants to focus on the way the Lions played when they beat the Chargers because that's the kind of performance they need to deliver each time out.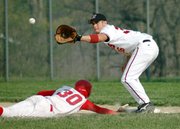 The Lions received gritty performances from players up and down the roster. Whether it was Curtis Burgoon's smoking bat, Terrill's tough defensive play at second base, Conn Blakley taking a sharp hop to the nose, Cody Mohan throwing four strong innings in relief or Mike Amaral turning a base-running gaffe into a three-run outburst that gave the Lions control of the game, contributions came from everywhere.
It's that type of team effort Wagner said the Lions must have to be successful this year.
"That's what we have to do," Wagner said. "Our team is not as talented as we were last year, and we all know that. We're probably better mentally and we show more heart, though. That's what's going to keep us on the good side."
Wagner will start on the mound in the first game of the Lions' 4:30 p.m. doubleheader today against Perry-Lecompton at the LHS baseball field. Either Mohan or Terrill will start game two.