Cityscape design deemed winner of logo contest
Harold Laurence claims he's not much of an artist, but his work soon will be seen all over Lansing.
Laurence is the winner of the Lansing DAZE logo contest, cosponsored by the city of Lansing and The Current. His design is of the Lansing skyline, including elements he thought people would remember the town by, as well as a Ferris wheel and fireworks to emphasize the carnival atmosphere of Lansing DAZE, the city's annual festival.
Laurence, an instructor at the Command and General Staff College at Fort Leavenworth, said the design was the result of collaboration between him and his wife, Karen, who also entered the contest. Harold Laurence said when they talked about possible themes, he liked the idea of a skyline because it was specific to Lansing. Each made a logo using the skyline, but Harold Laurence said he and his wife emphasized different features.
To decide which elements to use in their designs, the Laurences drove up and down Main Street and took digital pictures of buildings unique to Lansing. Harold said he incorporated the fire station, City Hall and the Towne Center fountains because he thought people would remember them as they drove through town. He also included the high school, though it isn't on Main Street, because it contributes to Lansing's identity.
Shanae Randolph, director of economic development and the Convention and Visitors Bureau, said the committee chose the design because it liked the idea of the cityscape.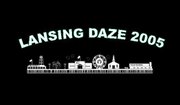 "He put a lot of time into thinking this was a community event and incorporated those elements," she said.
Although Harold said his artistic background was "nothing to speak of," he was able to create his logo using Microsoft Paint. He said he used a piece of clipart as a guideline but eventually took it away and built his skyline from scratch, pixel by pixel.
The Laurences were notified Monday that Harold won. Karen said she was surprised but "totally pleased" that her husband won. Harold said that though they both entered, he and Karen were not in competition. He said it was a situation of "mutual inspiration of the artistic muse."
And, he said, it was Karen's idea to enter the contest.
"If she hadn't cut the article out of The Lansing Current, I probably would never have done it," Harold said.
Harold will receive a prize of $100 at the May 5 City Council meeting. He said he would probably take his family out to a nice dinner with the prize money.