Kane takes aim at state, college
Rob and Nancy Kane wouldn't know what to do with themselves if they didn't have softball games to attend.
Fortunately for them, they still have a few more years to figure that out because they'll spend the next two years cruising down Interstate 70 on a regular basis to watch their daughter Jessica pitch for Kansas City Kansas Community College. She signed with KCKCC on April 13.
"We've been to many softball games over the years," Rob Kane said, a smile never leaving his face as he prepared to watch his daughter sign her letter of intent. "For most of our summers for the last three or four there have been no vacations. It's just been following her. She's played in Colorado and Des Moines, Iowa, and Nebraska : all over the place. Our vacations are weekends in other cities, but it's worth it."
"I'm glad it'll continue," he added. "I'd hate to see it end."
Jessica earned the opportunity to play in college in large part because of her life-long commitment to the sport. She has been pitching since she was eight years old and was a standout slugger in T-ball before that.
Her dedication to softball includes numerous summer camps, hundreds of trips to the batting cages and thousands of reverse-windmill swings of her powerful right arm.
"She's about as coachable as you can get, and she comes with a lot of knowledge of the game," LHS coach Terry Cornett said of his ace pitcher. "For anyone to take the time to go pitching and pitching and pitching, year-in and year-out, summertime and all that : that's dedication right there, and that's what it takes. That doesn't happen because you want it to. You've got to put forth the effort, and she's clearly done it."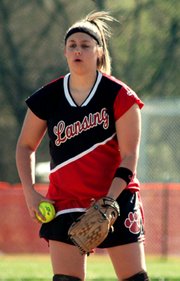 Jessica has developed into one of the most successful pitchers in Lansing history, but she said her lasting memory as a Lion likely will be the regional championship game last year. Kane went the distance in an extra-innings thriller with Perry-Lecompton. LHS fell behind 2-0, rallied and eventually won 5-4 in nine innings for the school's first-ever trip to the state tournament.
"That was probably the most fun I've ever had playing softball," she said, recalling the highlight of a junior campaign where she had an 11-3 record on the mound and walked just two batters all year. "It was so intense, and we did something our school had never done before. I'll always remember what it felt like and I'll always remember what I did when we won. I'll always remember that."
Once this season is over, she will gear up for another long summer in the sun when she returns to her original club softball team - the Lansing Outlaws - which her father started when Jessica was in middle school.
"She's already signed, and she just wants to have fun this summer," Rob Kane said. "She's going to be playing with her friends, so that should be pretty special for her."
Kane said she hopes her experience at KCKCC will help pave the way for her to play softball at the division I level. Perhaps at the University of Kansas.
"I really want to go to KU and go to their journalism school," Kane said, "so if I could play there too :"
For now, however, she's going to focus on trying to help the Lions make a return trip to the state tournament. She has done her part so far as she tossed a one-hitter in the season opener, but defensive errors have cost the Lions in other games. Despite the adversity, Kane said she is confident her team can turn things around and finish strong.
"We've had a rough start and had some stuff happen," she said. "Working through all that and coming out on top would be nice. I'd like to come out with a winning record, and I think we can win regionals again. It's going to be tough in 5A, but I think we can do it because we have the talent to do it."