No bull: Longhorn roams city
Animal escapes pen, takes walk down Main Street
The streets of Lansing, usually teeming with children on their way to school and employees going to work, were a little more crowded than usual Monday morning.
A longhorn bull that escaped from its owner was wandering through town, down Main Street, Ida Street and De Soto Road, before it was captured.
Lansing Police Chief Steve Wayman said the full-grown bull, approximately 1,000 pounds, was first reported loose around 7:15 a.m. It had escaped from its owner's property in the 1100 block of North Main Street by jumping a fence.
"It was a very unusual morning, to have to chase a damned cow down the road," Wayman said.
A police officer first found the animal in the middle of the southbound lane of Main Street. More officers then came and made loud noises to herd the animal into the grass strip by the Holiday Inn Express parking lot.
The bull wandered through town, finding its way to the westbound lane of Ida Street. About two hours later, the steer was corralled on the property of Mark McQuillan at the southeast corner of Ida Street and De Soto Road. Mark and Virginia McQuillan helped police get the animal into a pen on their property.
Mark McQuillan, who has his own cattle, helped officers corral the bull with the aid of a small whip.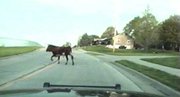 "Longhorns are a bit gamier than Herefords or Anguses," McQuillan said, which may explain the animal's escape and its resistance to being penned.
The animal was mostly a nuisance, Wayman said, and didn't harm anyone or cause any property damage. But, he said, the animal did constitute a safety concern as children were on their way to school at the time. Lansing Middle School is on Ida Road, where the bull was seen roaming.
Wayman said his only other real worry was that a car would hit the bull while the animal was on the road.
"He didn't get aggressive, but he wasn't afraid of us," Wayman said.