Season scratched?
LHS

sophomore recovers from bizarre pet accident
Lansing High sophomore Kayla Pina had her spring break mapped out perfectly.
Sleep a lot. Go to soccer practice. Maybe even a trip to the water park at Great Wolf Lodge with a friend visiting from California.
None of those plans matriculated, however, because of a freak cat-bathing accident five weeks ago today that washed away the first half of her soccer season and nearly took her life.
Kayla hoped to spend these days talking about how she and the LHS soccer team were dominating their opponents. Instead, she tells the tale of one of the most bizarre injuries ever to sideline a LHS athlete.
BOBBY NEEDS A BATH
March 17 began like any normal day for Kayla Pina. She went to school, then to soccer practice. After that she headed home.
That evening, her 10-year-old sister Kimberly began to give their house cat, Bobby, a bath. Kayla came to assist her younger sibling, and that's when trouble ensued.
"Our youngest daughter was giving our cat a bath, and she just went in to help," said Susie Pina, Kayla's mother. "The cat doesn't like water."
Bobby put up a terrible fight under the water. The slick and soapy cat squirmed to break free. During his struggle, he bit Kayla on the hand. Two teeth went through the top of her hand. Two sunk deep into her palm and struck bone.
By the next morning, the bite marks on her hand had swollen to the point where "it looked like she had lima beans standing on her palm," Susie Pina said. Kayla's arm began to swell with red stripes inching up toward her armpit.
She was rushed to the hospital, which would become her home for the next seven days.
NO VACATION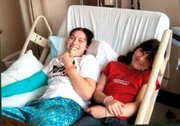 Spring Break at Lansing High began the afternoon of March 18. By then, however, Kayla already was under close doctor supervision in her hospital room.
"I was in the hospital my whole spring break," Kayla said, ": and that sucked."
She wouldn't be having any fun during the week off from school - a simple cat bite had turned into a serious problem.
Kayla was stricken with a number of problems from the bite. She developed a condition known as cat scratch fever that is caused by bacteria in cat saliva. She also developed osteomyelitis, a bone infection, from when the bite hit the bone in her palm. On top of that, she had a staph infection and a strep infection.
Medication helped get some of the problems under control, but the scariest symptom was the red stripe that had spread up her arm. A pressurized heat pad was applied to help fight off that infection.
"If the infection would've got into my chest and I could have died," Kayla said. "But they stopped it at my armpit."
Kayla's LHS teammates dropped by daily to keep her company and bring her candy, especially her favorites - sour gummy worms and gummy Skittles. Her next-door neighbors gathered everyone on their block to come by one day and they brought an Easter basket overflowing with treats.
"That added to me becoming overweight and out of shape," Kayla chuckled.
FORCED TO WATCH
It seemed almost ironic that the view from Kayla's hospital window was of the University of Saint Mary's soccer field.
It was almost as though she was being taunted by the game she no longer could play, the game she loved so much that had been snatched away by the jaws of her beloved family pet.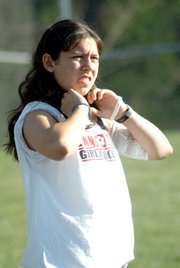 Doctors told Kayla she wasn't allowed to get her arm wet because it could cause the infection to spread. They told her she couldn't even sweat. Still, she passed the time in the hospital dribbling a soccer ball around her tiny room and dreamed of returning to the field.
Kayla finally returned home on March 24. She had an IV tube attached to her left shoulder and had to take medicine through it four times a day for 35 days. Doctors told her she was to avoid all physical contact during that time. That meant no playing soccer.
Kayla returned to practice but has had to watch practices and games from the sidelines as the Lions have stormed to a 5-1 start.
If not for the injury, it is likely she would have played a major factor in the Lions' success.
"Early on, I was looking at starting her in the center midfield," LHS soccer coach Rob Elkins said. "You know, Kayla can go forever out there, so when she went down, I decided I needed to push Bianca (Manago) back from forward to center mid."
Watching has been tough for Kayla. She said she is proud of how hard her teammates are working and the success they have earned. She just wishes she could be a part of it.
"Soccer is her life," Susie Pina said of her daughter. "She has a lot of passion and love for it, so it's been hard."
RETURNING TO THE PITCH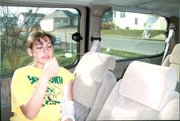 Fortunately for Kayla, her wait is almost over. She will visit the doctor this week, and if X-rays turn out OK, she said she will be able to return to the field on Friday.
That means she might be ready to play at 7 p.m. Monday when the Lions play at Olathe Northwest.
"I'm going to start practicing now, and hopefully by the time that I'm able to play, I'll be just as good as everybody else again," she said.
She admitted, though, that she has a long way to go conditioning-wise to catch up to her teammates.
Elkins said endurance would be the primary factor in determining how much Kayla would play, if at all.
"We've got to see what kind of condition she's in," he said. "She hasn't been working out for quite a while, so she might not be able to step in for long periods of time, but we know she'll make an immediate contribution."
That contribution might have to come on the junior varsity squad while she gets back in shape, but Kayla said if that's the case, that will be fine with her.
"I would still like it, definitely," she said. "Any game is a good game because everybody gets to try their hardest and do their best. I just want to play."