Gas prices not changing habits
Jeffrey Eisenbeis says he's spending about 20 percent more on gasoline than he did a year ago for his 30-mile daily commute from his home in Lansing to his job in downtown Kansas City, Mo.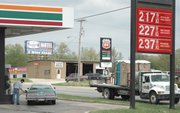 Gasoline prices in the Kansas City metro area have fallen from a high of about $2.29 a gallon April 11 to $2.17 a gallon Wednesday. But with the cost of gasoline about 41 cents a gallon higher this year than at the same time a year ago, Lansing commuters have begun to think about their driving habits.
Eisenbeis, deputy court administrator for Jackson County, Mo., said it was hard not to notice the cost increase.
"It hasn't made me change my driving habits," Eisenbeis said. "If it keeps up, then I'll make fewer non-work trips, maybe."
Judy Durham works at Durham School Services, 104 Rock Creek Commercial Court, which contracts busing for Lansing School District. Durham estimated the number of field trips the company has driven for the district has been cut by about a third because of the increased cost of fuel.
Lansing School District Superintendent Randall Bagby denied that the number of school activities has been reduced as a result of increased diesel prices for buses, although he did say that the district was over budget in fuel costs for activities. Diesel costs $2.19 per gallon, 52 cents more per gallon than it did a year ago.
Lansing Police Chief Steve Wayman said increased gasoline prices weigh on his budget.
The department's nine Ford Crown Victoria patrol cars each get an estimated 15 to 20 miles per gallon. With each of the cars being driven about 100 miles a day, it costs anywhere from about $11 to $14.50 per day to operate each vehicle when gasoline is at $2.18 a gallon.
"I asked them to try to keep it at 70 miles a day," Wayman said, though he added that no mileage limit had been instituted.
Because Lansing Police officers wear heavy protective vests and dark blue uniforms, Wayman said he would not ask his officers to cut down on the use of air conditioning, which can reduce gas mileage.
"Those cars are the officers' work stations for six to seven hours a day, and they have to be comfortable," Wayman said. "A 90-degree day can feel like 100 degrees to an officer wearing that much gear."
Chip Frye, sales manager at Speedway Chrysler-Dodge-Jeep, 555 N. Main St., said he had noticed little change in the number or kinds of cars he sells.
"Naturally, being in this business, we're a little bit worried, but we're holding our own in sheer sales," Frye said.
He said from 10 to 20 percent of car shoppers who visit Speedway looked for economy models but that gasoline prices would have to go up substantially before most consumers would consider a hybrid vehicle, which uses a fuel-cell-powered motor in conjunction with a regular combustion engine.
Consumers don't have to buy another car to improve their mileage, though. Kim Mathewson, a spokeswoman for AAA Auto Club, said there are some simple tasks drivers can do to improve their vehicles' efficiency. Drivers should maintain their vehicle according to manufacturers' specifications and keep their tires properly inflated, Mathewson said. Making sure the car has a clean air filter can also make a noticeable difference in increased mileage, she said.