KU

Relays in full swing
No medals for Lions
Lawrence — Dark storm clouds loomed over Memorial Stadium and a steady rain poured down during the early hours Friday morning, but the nasty weather began to subside as the 8 a.m. start of the girls' shot put neared at the Kansas Relays.
As LHS senior Tiffany Turner stepped into the circle to make her first throw, the clouds even broke for a few moments and let the sun shine through.
Turner used that brief moment in the sun to make her three throws - 34-4, 34-11 ½ and a scratch - in her final Relays appearance as an LHS athlete.
Turner's marks were better than a year ago and placed her in the middle of the pack, but the distance wasn't particularly satisfying for her. Turner had a better day on Thursday at Louisburg when the won the shot put with a throw of 36-11. That mark was just ¾ of an inch shy of her career best and school record mark from 2004.
"Her best throw (ever) is 36-11. She equaled that yesterday and she comes back today with a 34-11. That's not bad," LHS coach Errol Logue said. "All year long she's been in the range. Again, they're disappointed, but we bring them up here to be disappointed. This is preparation for down the road."
The skies remained overcast and a bitter wind blew across Lawrence as the 11-o'clock hour arrived and LHS junior Amanda Radovich prepared to throw the javelin. Radovich had competed Thursday evening at Louisburg, where she captured her first title of the season with a throw of 107-7. Things didn't go so well on Friday, however, as Radovich scratched on all three of her attempts.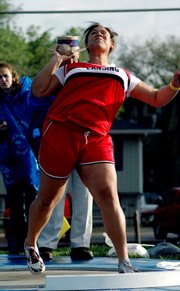 Logue said Radovich was frustrated with the shaky performance because she has been tinkering with her approach all season. He attributed her struggles to simply caring too much and trying too hard.
Radovich threw 126 feet and was a state medalist last year.
"She's been working on this, working on this, going to clinics and everything, and she just messed up," Logue said. "She's got to go back and just start throwing the javelin. I told her we're going to film her Monday and I'm going to show her what she's doing now and then we're going to watch her film from last year.
"She's a dedicated athlete. She's everything you want an athlete to be, but right now she's too much of it, and she's got the idea that if I can do one teeny thing different that's going to make me a better javelin thrower, and that's not the case. She's just got to go back and throw the javelin."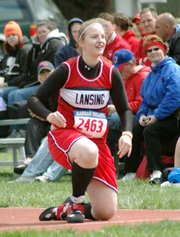 Senior Sara Eustice had a difficult evening in the pole vault. The event started more than two hours late because the college men's vault ran behind schedule. Plus, an already bitter wind picked up steam and whipped the vaulters even harder. The wind didn't seem to bother Eustice much, but she still had a tough time with the opening height of 9-foot-1. She missed on all three attempts, but had the height on her third try.
Eustice said she was not discouraged by the no-height result, saying that she would learn from it and use the experience to help her prepare for the state meet.
"It's a lot like state because of the stadium and all of the people and the top athletes that compete here, so it really helps you get ready to compete at state," Eustice said.
Logue said that was the goal for all three of his athletes at the KU Relays.
"My motivation for bringing kids here is, first of all everybody likes to say 'I went to the KU Relays when I was in high school,' but it's looking down the road," he said. "You come up here and you go through this. Now when you get to Wichita (for the state meet) in another month it's not quite the shocker. It's the atmosphere as much as the competition."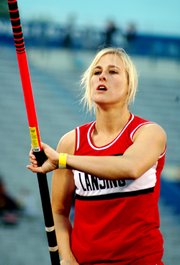 Check back to lansingcurrent.com throughout the day for live updates from the KU Relays.