Keeping posted
Teachers making use of Web sites for classes
Posting to teachers' Web sites in the Lansing school district is so easy a child could do it. In Kathy Meyers' fifth-grade class, they do.
For most students, this is their first time working with the Internet.
"It has to be easy," Lansing school district technology coordinator Jeff Andrews said.
While many Web sites require knowing HTML or other computer codes, the district Web sites that Andrews has set up for teachers do not. This makes it much easier for teachers and even students to update their sites.
"It works really well when you find students who are responsible enough to stay on it every week," Meyers said.
She said that the Web site was a great team project good that helped to develop keyboarding skills.
Meyers said students had enjoyed posting spelling lists, daily assignments and other reports from their classroom for their parents to see.
Parents use the Web site not only to keep tabs on what is going on in their child's classroom but also to communicate with the teacher. Meyers tells parents about the Web site at the beginning of the year.
Meyers said in the three years she has hosted a site, many parents had been receptive to its presence. She said parents post messages and leave comments in the guest book.
Classroom Web sites are also a means to unite teachers at the same grade level. At the beginning of the year, the LIS fifth-grade teachers met with Andrews to start Web sites for their classes.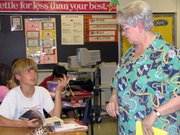 Meyers already had a page, which she set up three years ago through Yahoo Geocities. She developed the site through a class she had taken a MidAmerica Nazarene Univer-sity class on HTML Web scripting. She now uses both sites for classes.
For teachers who don't know HTML, the district Web site is a better option.
"The district Web site does the Web scripting for you," Meyers said.
Seven teachers at Lansing High School, three teachers at Lansing Middle School, six teachers at Lansing Intermediate School and five teachers at Lansing Elementary School have sites set up through the district. Libraries at all four of the schools also have sites, which list Accelerated Reader title list for each grade level and other resources.
"I'd like to see more teacher have Web sites," Andrews said. "It's an easy process to pick up."
Despite it being more work, Meyers is sold on the benefits of having a Web site, or two in her case.
"I hope more teachers catch on next year," Meyers said.