Soccer in a 9-game endurance test
The Lansing High soccer team has been playing its best soccer of the season in recent weeks, but Monday began a challenging stretch of games that likely will determine just how good the Lions really are.
In the 15-day span from April 25 to May 9 the Lions (7-2) will have played nine games. They opened that run with a tough 3-0 loss at Olathe Northwest during constant rainfall on Monday, followed by a 5-0 win Tuesday at home against Maranatha Academy. Sophomore Kristen Huffman scored two goals, and senior Jessica Hauver and freshmen Erin Griffen and Rachel Pride added goals during the victory.
The Lions certainly are looking to pick up more wins during this difficult stretch, but Elkins said there were more important areas for his players to focus on right now.
The primary area Elkins wants his players to improve is in figuring out how to elevate their level of play on a consistent basis, game to game, regardless of the opponent. That is exactly the reason he scheduled Class 6A opponent Northwest and Class 5A defending champion Shawnee Heights, which the Lions will face May 6.
"We don't play schools like that very often," Elkins said. "That's why we added them to our schedule.
"Our ultimate goal is to make it to the state tournament, and you're not going to make it to the state tournament if you don't play teams like this, because you're going to play teams like this trying to get to the state tournament."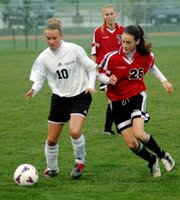 In its first three seasons, LHS won plenty of games - the Lions posted a 33-12 record during that span - but earned just one postseason victory. That win came last year in a 4-0 victory over Piper in a regional first-round game.
The Lions expect to go further this year, however, and the only way to do it was to play a tougher schedule.
The purpose of playing Northwest, Elkins said, was to show the Lions the level of play they'll have to attain to make it to state. Then they'd use Tuesday's win against Maranatha, and 4:30 p.m. games today against Washington and tomorrow at Piper to try to sustain that elevated play.
"I'm glad we get to play those teams because it humbles us a little bit and teaches us a lesson for when we keep moving up," sophomore Bianca Manago said.
In addition to maintaining their level of play, the Lions' endurance will be tested during this span, which includes games next week against Ottawa, Piper, Immaculata and Heights. All but Heights are Kaw Valley League foes.
"We definitely have some tough league games left," Manago said, "so it's important that we stay mentally tough through these next two weeks."