Softball gets tough
Lions regaining form displayed during run at state tournament
Throughout most of the Lansing High softball team's first eight games this year, it seemed like something was missing.
The Lions were lacking a spark.
Perhaps they were a bit content after placing third at state last year, or it could have been the result of not having a full squad available because of, among other factors, injuries.
Tuesday night at Lansing City Park, however, the Lions bared their teeth and showed signs of returning to their form of a year ago.
LHS won its first game against Basehor-Linwood 1-0 in eight innings before dropping another eight-inning thriller, 3-2. The Lions (4-6 overall, 2-2 Kaw Valley League) only got a split, but they won the game that counts in the league standings despite facing one of the league's top pitchers. More importantly, they didn't go down in game two without a gutsy fight.
"It was more like it was last year," said senior first baseman Emma Hoagland, who scored the winning run in game one. "We were just more relaxed. Even though we were tied the whole time and we hadn't scored yet, we had the confidence that we could do it. We just worked together better as a team and we didn't get down over little stuff."
Senior pitcher Jessica Kane and junior pitcher Dana Sanders were virtually untouchable during the twinbill as the pair combined for 18 strikeouts. Lansing also received clutch hits from Nichole Twitchel, Morgan Chiles, Sara Logan and Michelle Mitchell.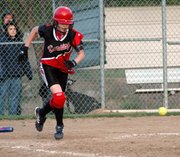 Sanders said the greatest factor in the Lions' improved focus was having almost their full roster back. Senior Carolyn McKune was the only player unavailable Tuesday because she is continuing to heal from a preseason hand injury.
"We had people unable to play and they were key players on the field and off the field," Sanders said. "We have most of our players back, so it helps having everyone together again."
The full-squad reunion didn't last long, though, and now the Lions must face an additional bout with adversity. Freshman outfielder Jasmine Holland went to the hospital Tuesday after the ball struck her hand as she swung during the first game. LHS coach Terry Cornett said Holland's season likely is over because of the injury.
Then, in game two, Jasmine's older sister Nicole Holland, a senior outfielder, sustained a similar injury on an identical play.
"Both of them are probably out for the rest of the year," Cornett said.
Now it's back to square one for LHS. The Lions play at 4:30 p.m. today at Bishop Ward. It will be their first time playing without the Holland sisters, as well as their first chance to show that Tuesday's gritty effort wasn't a fluke. Cornett said he expects his players will be ready to step up to the challenge.
"I'd like to think that," he said. "We'll see Thursday."