Resident's brush with flooding prompts call for stormwater study
A Lansing woman's problems with flooding have brought a renewed call from a City Council member for a stormwater management study.
Evelyn Kimmey told council members at Thursday's meeting that she had lived in the house at 106 W. Lois St. for 37 years and never had encountered flooding problems like she had since the city improved West Mary Street. She showed council members photos taken during an April 11 rainstorm in which runoff had overrun a small creek and water had nearly come up to her driveway.
"I'm not against progress, but I do feel that we need some work in that area," Kimmey told council members.
John Young, the city's director of public works, said he thought the problem wasn't related so much to the West Mary improvements. Instead, he raised questions about a culvert at Kimmey's property, some driveway pipes along Lois Street that were blocked and subsequently forced water across Lois Street into the creek, and the speed in which runoff could run through the creek, past West Kay Street and into Seven Mile Creek.
"There's not much gradient until you get past Kansas Street," Young said. "That's the problem. To do an ultimate fix, we've got a very (inaudible) budget."
Council member Robert Ulin said Kimmey's plight pointed out the need for a stormwater management study.
Growth, he noted, would only exacerbate the problem.
"We're going to create some tremendous runoff situations. Everybody who lives in low areas is going to be affected by it unless we do something about stormwater management.
I think stormwater management, as we continue to grow, is going to be an increasing problem for the city."
Ulin's comments prompted Young to remind council members that stormwater management was not an inexpensive task and that the city currently funded at $20,000 annually for stormwater system improvements.
Young suggested council members might want to consider a stormwater utility fee assessed on residents and businesses.
"Nobody likes to pay more money, but you're right, there are a lot of problems out there that we have - existing problems - and it takes a lot of money to fix them."
Any such fee would be collected monthly with other city utilities and placed into a separate account dedicated to stormwater projects.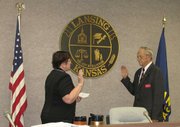 "That money accumulates so that there is a pool of funds to take care of these kinds of problems and to do fixes, do the ultimate fix, instead of doing the interim fixes like we're doing here," Young explained.
The council took no action on Ulin's suggestion for a stormwater study. Mayor Kenneth Bernard directed Young to find out what can be done to ease the problems on the Kimmey property and told City Administrator Mike Smith to find the money to complete the task.
Meanwhile, Smith said he would revisit with council members the idea of at least creating a fund dedicated to stormwater utility work beginning with the 2006 city budget.
"We've got to manage this water," he said.
In other action Thursday, the council:
¢ Presented the city's Employee of the Quarter award to Shanae Randolph, director of economic development and the Convention and Visitors Bureau.
¢ Heard Bernard designate May 1 as "Loyalty Day" and proclaim May 1-7 as "Vietnam Veterans Recognition Week." Mike Howell, senior vice commander of the Lansing Veterans of Foreign Wars post, presented Mayor Kenneth Bernard and Council member Robert Ulin with certificates of appreciation for their service in Vietnam. Howell also presented a certificate to Council member Billy Blackwell on behalf of his brother, Robert, who was killed while serving in Vietnam.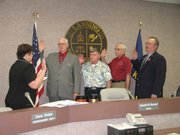 ¢ Unanimously approved the city's 2005 capital improvement plan for overlay, sidewalks, curbs and sidewalks. The priority list for asphalt overlay is topped by De Soto Road, followed by Valley Drive from Ida Street to Crestview, Hampton Court and South Valley from 4-H Road to Maple Lane. Council members directed that overlay of 155th Street be included when bids are sought. Work on 155th would only be completed, however, if enough money is left in the capital improvement budget.
¢ Unanimously approved a resolution annexing two tracts of land owned by Daniel and Ruth Sedlak into the city. The Sedlaks petitioned the city seeking the annexation. The tracts are near 180 acres the Sedlaks recently sold to the city. That land will be used as a city park.
¢ Unanimously accepted the treasurer's report for the first quarter of 2005.
¢ Approved, 7-1 with Council member Robert Ulin objecting, the appointment of Ronald "Dusty" Rhoads as a Lansing representative on the governing board of Leavenworth County Fire District No. 1. Ulin had raised questions about why there had been no nominating committee appointed to review applicants.