LHS

senior's recovery called miraculous
When Lansing High School senior Jon Terrill was rushed to Overland Park Regional Medical Center last month after rolling his 2000 Explorer on Kansas Highway 7, it was uncertain whether he would live.
Exactly four weeks later, he attended his senior prom after doctors checked him out and felt comfortable enough to give him a home pass for the evening.
"It wore him out," said Jon's father, Randall Terrill Jr., who noted that his son's 18th birthday also was Saturday. "He had to be back by 11 p.m., but he had a good time. It was nice for him to be able to go to that for a little while and see some of his friends."
Prom may be just the first step in Jon's return to normal activities. Randall Terrill said Jon may be released as soon as this weekend or early next week.
That's hardly the story doctors were giving the family a month ago. Then, the family was told Jon could be in the hospital for as long as three months - maybe more.
Jon has been a fighter, though, his father said, and has astounded his doctors and family members with his rapid progress.
Jon was moved to Mid America Rehabilitation Hospital in Overland Park a week ago to receive more focused physical therapy. Since arriving there, the LHS wrestler and baseball player has attacked his workouts with the same energy and commitment he devoted to sports practices, and the results have astounded his doctors and family.
"They've kind of dubbed him the 'miracle kid' because, from one day to the next, he has just been amazing," Randall Terrill said. "He's doubled his workouts. He was doing 10 reps of the exercises, and the next time he went in he was doing 20 reps. He walked the first couple days about 20 feet. The next day he was walking 100 feet. (Monday) he spent 15 minutes on the treadmill, and he walked about half a mile."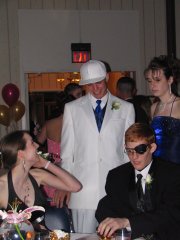 Randall Terrill said doctors indicated his son's age, as well as the fact that he was in good shape from wrestling and baseball, were contributing factors to his quick recovery.
The other factor, his father said, was his positive attitude.
"He's had a good sense of humor about it all and he's shouldered the whole thing, saying, 'Hey, if I didn't fall asleep at the wheel, I wouldn't be here,'" Randall Terrill said. "He has such a positive attitude about it."
His sense of humor has shown through numerous times during his rehabilitation, Randall Terrill said. The most common example may be when it comes to food. Jon has lost about 25 pounds while in the hospital.
"There's times he looks at me and says, 'Dad, how about going and getting me a cheeseburger?'" Randall Terrill chuckled.
There have been emotional moments, too, such as on Saturday when Jon was given his home pass to go to prom. On the way to home from the hospital, Jon asked his father to take him by the school and baseball field.
"It was a little emotional for him," Randall Terrill said. "He said something to the effect of, 'I should have been out there.' I think that helped him emotionally to do that. He's just excited to get back to doing normal things."
When Jon returns home, he still will have to visit the hospital for outpatient care, but he will be able to resume numerous "normal" activities.
"That'll be a big deal for him," his father said. "I know he's wanting to graduate with his class, and he's wanting to get back with the baseball team and go out for senior night. He may get home just in time. He's very anxious and ready to go. He's looking at those types of things and is just thankful that he can still do that."