Police employ video camera to catch red-light runners
Smile and obey the traffic laws.
Lansing Police are using a video camera in their effort to crack down on drivers that run red lights.
The relatively low-tech effort is producing a highly effective strategy for traffic control, Chief Steve Wayman said.
"If I didn't think so, we wouldn't be doing it," he said.
The effort works like this: Police set up a video camera near stoplight-controlled intersections. An officer nearby watches for vehicles running through yellow lights that turn red. When a vehicle runs a red light, the officer radios to a patrol car stationed down the road. The officer down the road serves the citation.
The video recording is intended to reduce traffic light runners and ensure successful prosecution of violators.
Recently, Wayman recorded traffic on a video camera from an unmarked car at Main and Ida streets. In a two-hour period, 14 drivers received citations for running red lights.
"These aren't close calls," Wayman said. "The majority of these are blatantly disobeying the traffic-control devices."
Motorists who get ticketed usually don't contest the ticket because the video proof is usually indisputable, Wayman said.
Unless, that is, the sun is high overhead.
When it's bright outside, Wayman said, the camera has a harder time recording the traffic signal, which is the key to proving a violation. That's led Wayman to video record only in the mornings.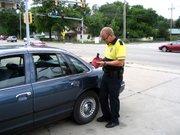 The fine for those who are ticketed is $150.
The strategy, which has been used previously, was employed by Lansing Police as part of the recent campaign sponsored by the Kansas Department of Transportation to raise public awareness of highway safety laws and the importance of seat belt use.
Wayman said the program has raised awareness of obeying the speed limits.
"They don't go as fast as they normally do," he said.
Capt. Ben Ontiveros said seat belt use didn't seem to be affected much by the KDOT campaign.
"I'd like to think we'd have raised awareness more," he said.
Ontiveros said the one-week campaign produced 34 speeding citations, six adult safety belt citations, one child safety seat citation, one speed warning and 26 other citations.