Business owner at home at bed and breakfast
Brenda Frese is the owner of the Moose Landing Bed and Breakfast, but she hardly considers what she does a job. She thinks of it more as a hobby.
"I like this better than anything else," Frese said. "I love to cook, clean, do laundry and entertain. It's just a bonus that I get paid for it."
The bed and breakfast, at 24131 146th St. in the newly annexed area of south Lansing, serves not only as a place for visitors to stay but also as a home for Frese and her husband, Jerry.
The two have lived in the house for eight years, and they started the bed and breakfast five years ago.
The three-story complex features a mountain lodge decor and includes three bedrooms, a library, kitchen, living room, and a covered patio.
Amenities such as heated floors, whirlpool bathtubs, fireplaces and, of course, breakfast, come with the stay.
Jerry Frese, who owns a construction company, built the house.
Photo Gallery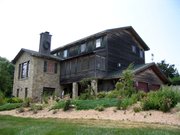 Moose Landing Bed & Breakfast
A bed and breakfast in south Lansing draws visitors from across the region and country.
"I remodel homes for a living, and I enjoy installing those types of things," he said. "It's fun to do that and give people a fun place to relax."
Brenda Frese said she rented two rooms at a time, $235 a night for the bigger room and $195 for the smaller room, and lives in the third.
The property itself covers about eight acres and has two ponds. Brenda Frese said the larger pond was the focal point of her bed and breakfast.
"Guests can see the pond from anywhere in the house," she said.
Frese said she does her best business in the summer months. She said the bed and breakfast attracted all kinds of people who were looking for a romantic getaway, a quiet weekend or just a chance to go fishing in her pond.
Though most of her guests are from the area, she said she has had customers from as far away as Texas and Wisconsin.
Meeting all these people is what Frese likes most about her business.
"I want to talk to my guests and get to know them while they're here," she said. "I've become family with some of my repeat visitors."
Jerry agreed, adding that he didn't at all mind sharing his home.
"My wife loves it," he said. "If she's happy, then I'm happy."
He doesn't even mind the fact that the bed and breakfast isn't designed to make money.
"We call it her expensive hobby," he said.
Brenda Frese said a typical bed and breakfast needs at least seven rooms to be profitable, but that just doesn't matter to her.
She said she doesn't allow guests to reserve rooms online because she wants to talk to them first and see if the Moose Landing Lodge is right for them.
At times she has turned down business and recommended other establishments, she said.
"I usually only take married people or singles," she said. "I also have a no children rule."
Brenda said she doesn't allow children to stay in her bed and breakfast because she doesn't think they help the quiet and romantic feel and because she worries about accidents.
That doesn't mean Frese dislikes children. She recently began offering free cooking and gardening classes to children out of her home.
The idea for the name of her bed and breakfast came 12 years ago, when her friends bought her moose memorabilia. She liked what she saw and began collecting moose objects on her own.
Just about every plate and cup in her house has a picture of a moose on it, and she sometimes even serves food in the shape of a moose.
"People always ask if we have real moose here after they see the place," she said.
The only moose she doesn't like is Bullwinkle.
Any guest who stays at her bed and breakfast will learn this during their stay, and that's what Frese thinks set her business apart from the average hotel.
"I think people are looking for a different experience, and like the personal touch," she said.