Lansing cyclists join 8,000 riders for Northwest trek
Two Lansing women experienced the bike ride of a lifetime last month when they made the 200-mile trek from Seattle to Portland.
Tera Cameron and her friend Vickie Kelly joined more than 8,000 other cyclists in a two-day ride across the Northwest called the "Group Health Seattle to Portland Bicycle Classic."
"It's one of the largest organized rides in the country," Cameron said.
The ride served as a fund-raiser for Cascade Bicycle Club - a Seattle nonprofit organization that works to promote cycling - and though the event wasn't classified as a race, Cameron and Kelly said it was a true test of athleticism.
The two-day ride consisted of grueling back-to-back, 100-mile legs that forced Cameron and Kelly - women in their early 40s -to undertake some serious training.
Cameron said they both used to participate in triathlons and have biked since the late 1990s, but preparing for this ride still was a challenge.
"For me, it was the first time I'd rode 100 miles in a day," Cameron said. "We rode out to Tonganoxie and Lawrence to get ready for the race, but that was only around 70 miles round trip."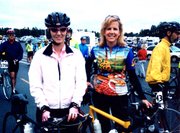 Kelly said she previously had previously participated in "century rides" - rides of 100 miles in a single day - but doing two 100-mile rides on consecutive days was a new experience for her.
"I wasn't sure I would be able to do two 100-mile rides in two days," Kelly said, "but I knew that once I started I'd never quit or start walking."
Cameron said riding in the Northwest was different from Kansas because mountains in Oregon and Washington offered tough terrain. It also rained throughout much of her ride.
Cameron said she completed the longest ride of her life without any setbacks.
She said she avoided wrecks, got used to rolling up and down the hills, and stayed with Kelly throughout the ride.
They made pit stops at local restaurants and Starbucks along the way.
"We rode side by side the whole way," she said. "We both have similar abilities, so it worked out real well."
Kelly, who used to visit the Seattle area during her youth and who lived in the Northwest in her 20s, said she had heard of the ride in the past and talked Cameron into entering this year's classic.
"She's always up for a challenge, and she's a great riding partner," Kelly said.
Though Cameron couldn't remember exactly where Kelly and she finished among the masses of cyclists, she said people were still crossing the finish line when they headed back to Kansas.
Finishing the ride was special for Cameron, not only because she proved she could do it but also because people lined the streets of Portland at the finish line.
"It made you feel you were doing something really special," she said. "I'm sure it wasn't quite like the Tour de France, but it was neat."
Still, she wasn't concerned with how fast she rode. She said she participated to see the Northwest and enjoy riding with her friend.
On their journey, Cameron and Kelly biked around Lake Washington and Seattle and went through a number of small towns. They said it was a great way to get a feel for the area.
The ride's high point, both women agreed, was crossing the Columbia River near Longview, Wash., on the Lewis and Clark Bridge. The bridge is more than 1.5 miles in length, spanning the river 210 feet above the water.
"We were up pretty high, and the view was spectacular," Cameron said. "We saw the Columbia River and the countryside. There was logging and timber everywhere, with mountains in the background. It was really beautiful."
The beauty of the view from the bridge, though, was obscured somewhat by the potential danger of crossing it with hordes of other riders, Kelly said.
"You literally rubbed elbows with cyclists, everybody going at a different speed," she said. "If someone had fallen, it would have been a disaster."
With the ride finished and the sense of accomplishment still fresh, neither woman is ready to take it easy. Kelly said she was training for a half-marathon, and both the two women plan to ride in a century ride sometime this autumn.
"But only one 100-mile ride," Kelly said.