City taps inspector as employee of quarter
The city's Employee of the Quarter should be a familiar face to anyone who has visited Lansing DAZE or who has received a building permit in Lansing.
Becky Savidge, city inspector, was recognized Thursday night during the Lansing City Council meeting.
City Administrator Mike Smith said Savidge, who was nominated by fellow city workers, received the award in part for her work at Lansing DAZE, the city's annual summer festival.
"If you ever attended Lansing DAZE, her and her family probably camped out there four or five days," Smith told council members. "Her little ones, her big ones and her were running around all over there. : They did an excellent job. They were always out there to help out any citizen or any department that needed help in any area."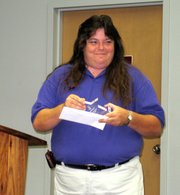 As city inspector, which Smith said was "sort of like being a police officer," Savidge displays a knack for getting results from people who might otherwise be hesitant to comply with city codes.
"A lot of times you're telling people what they don't want to hear," Smith said, "but Becky has a way of getting it across to them to get them to comply."
Smith also credited Savidge for her work on the city's Personnel Committee.
Savidge, who began her tenure with the city as a code enforcement officer and assistant building inspector in 1998, said she received a lot of help from others.
"I just want to say that I didn't earn this by myself," Savidge said after receiving her award. "Each one of my co-workers is right beside me all the time and so is my family, so this is for all of you. Thank you."