The first day of school can be overwhelming. Just ask Elizabeth Strukel.
Elizabeth started kindergarten Monday at Lansing Elementary School. Soon after she was released from class, Elizabeth said her first day was "great!" but she couldn't remember what she had done that day.
With some prompting, Elizabeth remembered that she had played on the playground and made some artwork.
"I drawed fishies," she said. "Goldfishies."
Although going to kindergarten was an entirely new experience for Elizabeth, her mom, Debbie Strukel, had been through the routine a few times before - Elizabeth is the second-youngest of five children.
Debbie said that after so many years of going through the pick-up and drop-off lanes in front of the school, she could tell the amateurs from the veterans. But being a veteran herself didn't make dropping Elizabeth off for her first day of school any easier. Debbie said it was hard to send her daughter off into someone else's care.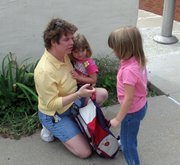 "It's hard not to send her with a list of her likes and dislikes," Debbie said.
Debbie said it was even harder for her husband, who usually takes the girls to school.
"It's kind of sad (for him)," Debbie said. "When he sees them walking up the hill to school, he thinks soon they're going to be walking up the aisle."
The first day of school was a little bit sad for Elizabeth, too. Although when she entered her classroom in the morning, she bravely walked to an open chair - and didn't respond to her mother saying, "Bye, Elizabeth, we love you" - she admitted after school that she had missed her mom.
Debbie said she and her two youngest daughters, Elizabeth and Anne, 3, would have a special lunch at home to celebrate Elizabeth's first day of school.
The first day can be painful for first-time students and their parents, but Jean Salmon, Elizabeth's kindergarten teacher, said about 30 minutes into her first class that it was going "very well."
"I don't see any criers," Salmon said.