Chasing her dream
For Blankenship, success comes one mile at a time
When Cassie Blankenship looks back on her track and cross country career at Johnson County Community College, the list of accomplishments still amazes her.
"Going into college, I didn't really quite know what to expect," said Blankenship, a 2003 Lansing High School graduate. "I knew I was at the same level as a lot of the girls there, but I thought I'd be the mediocre runner on the team. I wasn't expecting to improve like I did at all."
During her two years at JCCC, Blankenship was far from mediocre. In fact, she quickly blossomed into one of the school's all-time greats.
In two short years, she posted some of the fastest times in JCCC history. She helped the Cavaliers win a national title at the National Junior College Athletics Association Half Marathon Championships as a freshman. Then she picked up her first major title at the Great American Cross Country Festival in Cary, N.C., and won the East Jayhawk Conference individual cross country title as a sophomore. She also won multiple track league titles and ran a leg for the national champion 3,200-meter relay during the indoor track season as a sophomore.
She now ranks among the most decorated track and cross country athletes in JCCC history, with six All-American honors to her credit.
Blankenship may be surprised by the success, but neither JCCC coach Mike Bloemker nor LHS coach Errol Logue were caught off guard by it.
"With her attitude and work ethic, you wouldn't be surprised with anything," Logue said.
FINDING HER WAY
Blankenship admits she wasn't totally sold on running in the beginning. She ran cross country for four years at Lansing High, but she said she was "a softball girl" who wavered back and forth about which sport to do in the spring. Finally Logue convinced her to focus solely on her running.
"He got me excited about it and made me realize this is what I want to do," Blankenship said of Logue's influence. "He made me love it."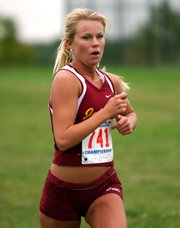 Blankenship held her own on the high school scene. She was a four-time state qualifier in cross country and was the Kaw Valley League champion as a junior. During her two years on the LHS track team she qualified for state. She also was a KVL champion in the two-mile as a senior. She was plagued by injuries during her junior and senior seasons, though, and was thus unable to see her full potential as a runner.
"In high school, we always thought she needed a longer distance," Logue said, citing the fact that in Kansas, the longest girls' cross country or track race usually is 3,200 meters.
Despite the injuries, college coaches took notice of Blankenship's fast times. Small NAIA schools and regional junior colleges sought her talent. Blankenship ultimately settled on Johnson County, a school that had developed a reputation for churning out elite distance runners in the past decade.
"She was real typical of a lot of the women we would get," Bloemker said. "A lot of the women we get are between 12:20 and 12:50 (for their two-mile time), and Cassie was right in that range. But she was a young lady who wanted to work hard and wanted to come to school here. She came in and she worked really hard."
RISING TO FAME
Blankenship gelled with the program at JCCC immediately. As a freshman, she placed 19th at the National Junior College Athletic Association Division II Cross Country Championships, placed 12th in the NJCAA Half Marathon Championships where the Cavaliers won the national title, helped the 3,200-meter relay team place seventh at the NJCAA Indoor Championships and earned a sixth-place finish in the 10,000-meter run during the outdoor track season.
Her sophomore campaign went even better. At the third cross country meet of the season, the Great American Invitational, Blankenship picked up her first major championship as she blazed to victory on the Cary, N.C., course in a 5,000-meter time of 18:59.99.
"Good God, my phone was ringing off the hook after Great American," Bloemker said of the numerous college coaches who started calling about Blankenship. "It just went crazy."
Division I coaches suddenly were interested in Blankenship, but the always humble runner didn't let the success go to her head.
"I kept thinking that it wasn't a big deal, that I wasn't that good," she said. "I thought that it couldn't be that good of an accomplishment because I did it, because I was used to being a mediocre runner."
Still, the growing buzz surrounding her eventually got her to see the bigger picture.
"That's when I first thought that maybe I could get all four years of school paid for," she said. "Before, I'd always wanted to be a Division I runner. I always thought it would be cool to be at that level with that caliber of runners. When I started getting recruited by those schools, I realized I had to buckle down and take it seriously because I had a chance to do something with it."
Blankenship ended the season strong. She was the East Jayhawk Conference champion and placed 28th at the national championships. Her eighth-place finish at the Half Marathon Championships helped the Cavaliers place second as a team. During the indoor track season she was a league champion in the mile and the 1,000 meters. She also ran a leg of the national champion 3,200-meter relay team. During the outdoor season the helped the 3,200-meter relay team place sixth at nationals.
"She's been around a lot of good things that have happened," Bloemker said of Blankenship's contributions to the JCCC program.
CHANGE OF DIRECTION
Although Blankenship had the opportunity to fulfill her dream of becoming a Division I runner, she said she put it on hold in order to chase another dream: coaching. Blankenship turned down a scholarship offer from the University of Missouri-Kansas City in order to be an assistant coach at JCCC this season.
"This was an opportunity I didn't want to pass up," she said of her desire to become a coach.
Blankenship said she would coach this year to help build her resume. In the meantime, she also will train with the team at JCCC and compete in races on her own. Then, next fall she plans to complete her college eligibility as a Division I runner at UMKC.
Blankenship said she thought she had plenty to offer to the women's runners at Johnson County, whether it's advice about in-race strategy, preparation or cross training.
"I know a lot about the training aspects of running," she said, "but there's so much more that goes into coaching. I want to get a feel for all of that."
She said she had learned from two great coaches - Logue and Bloemker - during her career and their coaching influences would contribute to how she works with other runners in the future.
"I'll definitely draw on my experiences from both of my coaches," she said. "And I'll be getting paid to do something I love to do."