Commander asks mayors for help in recruiting for military
The keynote speaker at the Kansas Mayors Association dinner Saturday took advantage of the unique opportunity to address a bevy of community leaders from around the state by asking them to help recruit young people for the U.S. military.
Lt. Gen. William Wallace, commander of Fort Leavenworth, spoke to about 30 mayors at Leavenworth Country Club as part of the culmination of the mayors' weekend conference, which Lansing and Mayor Kenneth Bernard played host to Friday and Saturday.
"It's no secret that our military in general, and the Army specifically, is facing some recruiting challenges these days," Wallace told the assembled mayors.
The Army recruiting goals for the fiscal year, which ends Sept. 30, is 80,000 new recruits. Through July, the branch is on track to fall short by 11 percent. The National Guard and Army Reserve are faring worse.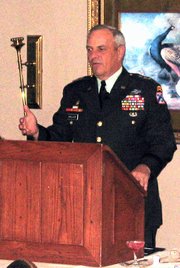 Wallace asked mayors to act as "influencers" - military recruiter-speak for nonparental adults who can influence young people - to persuade young Americans to join the military.
Too many influencers, Wallace said, are encouraging young people not to join, because they, themselves, "are influenced by images of suffering in combat zones around the world."
"Yet our nation's success at sustaining the voluntary military force over the past several decades has been the product of a partnership between the military and local communities," Wallace said.
The commander said men and women who serve in the armed forces "understand there are some things more important than personal safety."
"Recent Gallup polls show that the public confidence in our military is as high as it's ever been in our history, and that our all-volunteer force is in not in jeopardy in the least," Wallace said, in an apparent allusion to some pundits' predictions of imminent reinstatement of a military draft.