Former Piper resident moves north to Lansing
Third-year teacher Jessica Asbury may have been as nervous and excited as her students on Monday, the first day of school.
Asbury is one of two new first-grade teachers in the district. She taught second grade and kindergarten in the Topeka Seaman district before coming to Lansing Elementary School.
Asbury said she grew up in Piper and that she and her husband were looking into moving back to the area.
"I heard wonderful things about Lansing, so I was excited to come here," she said.
Asbury said she liked teaching elementary grades because young students were often excited to learn.
"As long as I'm in primary (education), I'm happy," she said. "The eagerness of younger kids appeals to me."
Asbury said in her experience children were often nervous and excited on the first day of class. She said she tried to make the first day as engaging as possible to keep students enthusiastic about school.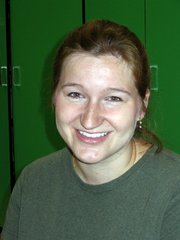 "If you make it interesting, you can teach them a love of learning at an early age," she said.
Asbury said her biggest anxiety about the year was that she would be taking six weeks of maternity leave for the birth of her first child, due in October. Her class will have a long-term substitute while she is gone, but she said she thought the students would be adjust well.
"They are lucky to have two teachers rather than just one," she said.