Group taps area leader as 'Mayor of the Year'
The recipient of this year's Mayor of the Year award from the Kansas Mayors Association didn't have to travel far to pick up the honor.
But when the award was given out Saturday night in Lansing, Bonner Springs Mayor Clausie Smith had no idea he would be receiving it.
"I'm genuinely surprised," Smith said. "It's rare that I don't know what to say."
Laura McConwell, mayor of Mission, presented the award to Smith, describing him as a "super guy" who "fostered youth and created business opportunities" for his community.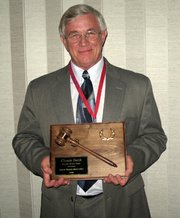 Before becoming mayor in April 2003, Smith was a City Council member for two years.
Upon entering office, he introduced a "Mayor's Forum," a monthly evening meeting for residents to discuss their concerns.
In 2004, he and Edwardsville Mayor Stephanie Eickhoff reintroduced the Youth Advisory Committee. The committee gives the two cities' youths a chance to participate in their city government.
Smith ran unopposed for his second term in April 2005.
In addition to his mayoral duties, Smith works as a substitute teacher for Unified School District 204 and has been involved with several local community and civic groups, including the United Way Board of Directors, Mid-America Regional Council board of directors, and Wyandotte County Economic Development Inc.
Before his City Council stint, Smith owned and ran the Bonner Springs Chieftain-Sentinel newspaper with his wife, Jean, for 21 years. The two have been married for 45 years. Smith continues to write columns for the paper.