Lansing 4-H'er finds success at fair
Tonganoxie — She said it wasn't her best year at the Leavenworth County Fair, but Jennifer Miller was still pleased with the outcome.
Miller, a Lansing High School senior and member of Boling 4-H club, was one of dozens of area youths who competed at this year's county fair, which ended Sunday in Tonganoxie. Miller tried her hand in the 4-H/FFA Beef Show with a crossbred steer and in sewing with a dress and a purse.
She earned purple ribbons, the highest designation, for her sewing projects, a blue ribbon in the beef show and third place in her class in the showmanship competition. Blue is the highest designation in livestock competition.
"I think last year went better for me," she said. "I was pretty busy this summer, but it still went well."
Miller has shown cattle at the fair since she was 5 years old. Children can't join a 4-H club until they are 7 years old, but she said children who were too young to join 4-H could compete an open class. In such instances, a parent usually would accompany the young child into the show ring, she said.
Miller said she wanted to show cattle because her two older brothers did.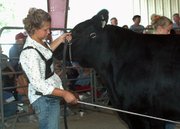 Raising a steer takes a fair amount of time, Miller said.
She said she usually would buy her steer in the fall to show at the next summer's fair. From October or November to the following August, Miller said, she gets up early in the morning to wash her animal. In the summer, she said, she keeps a fan on her steer so its hair will grow. She feeds it steer show feed.
Miller's steer weighed 1,370 pounds at competition.
"He's a big boy," she said.
At the beef show, which was Thursday, Miller said the judge would be looking for a "well-rounded steer." She said the judge would look and feel for muscle tone in the cattle, but Miller said the criteria used to pick the best steer was up to the judge.
"You never know what the judges want," she said.
The judge this year seemed to favor smaller animals than hers, Miller said. But after sizing up her competition, she said she thought she would be in the top of her class.
"I figured I would be up there in the top three. I was hoping, anyway," Miller said.
In competition, animals are walked around the ring and then positioned in one spot. Miller said the goal is to set the animal's feet and scratch its stomach with a long stick to relax it, but sometimes an animal will get spooked and move around.
Miller's steer seemed anxious to wander.
"He was pretty antsy in the ring, but he did all right," she said.
She said her steer was a little upset by a piece of paper that flew into the ring. Sometimes spectators, such as children running around, can scare the cattle, she said.
"Anything can set 'em off, you just don't know," she said.
Miller said she hoped her steer would settle down before the showmanship competition later in the day. In showmanship, exhibitors are judged on how well they handle their animal. The animal can have a lot to do with the outcome.
"It's all on how your calf's behaving," Miller said.
Miller finished third in her class for showmanship. She said her steer was still antsy during the competition, probably from being hot and tired.
Miller's steer was a market animal, which meant that she would sell it at auction Friday at the fair. Her steer sold for $675. Miller said that was a good price, but she didn't turn much of a profit.
With her projects finished and her steer sold, Miller said she wasn't quite sure what to do until later this year when she finds a new animal to raise.
"It's kinda weird going from doing all that work with a steer to not having him any more," she said.
When she does start looking for a new animal, Miller said she definitely wanted a steer but she wasn't looking for a particular breed. She said she would look at home - her family has about 20 head of cattle - and at other farms to find the right steer.
4-H outcome
About 14 4-H groups participated in this year's county fair. One group with members from Lansing shared preliminary results from the competitions.
Karol Lohman, a co-community leader for Friendship Valley 4-H, said members in her group did "very well."
She said many of the participants from Friendship Valley earned champion and reserve champion designations in showmanship for swine, sheep, beef and other livestock competitions.
The club banner was selected as reserve champion and will go on to state competition, Lohman said. The club placed third in the scarecrow competition.
Older teens in the club who took part in leadership projects all got at least blue ribbons, Lohman said.
Lohman said the group had many other entries in cooking, sewing, woodworking, sketching, photography, horticulture, shooting sports and other categories, but she said she hadn't yet heard how all of the members did in those events.
"I was real proud of each and every one of them," Lohman said of the club members who competed at the fair.
Beth Hecht, county extension agent for 4-H youth development for K-State Research and Extension Office said complete fair results would be available in a few weeks. The Current plans to publish results when they become available.