Price to outfit each officer put near $3,210
Handcuffs: $39.99. Badge: $110. Body armor: $550. Outfitting a Lansing Police officer: Priceless.
Well, not exactly.
Although having a fully equipped police officer might be impossible to put a price tag on, there certainly is a dollar amount on a Lansing Police officer's equipment.
$3,209.77, to be exact.
The equipment, which the city provides compliments of its taxpayers, consists of everything from a $3 Lansing Police patch to an $800 radio.
"The cost has gone up over the years, for sure," said City Administrator Mike Smith, who recently won approval of his 2006 budget, which included outlays for the Police Department. "But in the city of Lansing, we're protecting the officers better, too, because they're out there by themselves putting their lives on the line to protect us."
There are 25 items assigned to police officers, from basic clothing and uniform needs to the tools an officer needs to enforce the law.
Lansing Police officers are given three sets of the standard uniform, Capt. Ben Ontiveros said. The uniform sets include three long-sleeve, button-down shirts ($143.97), three short-sleeve, button-down shirts ($149.97) and three pairs of pants ($179.97). In addition, each officer receives body armor ($550). Ontiveros said the type of body armor used by Lansing officers is standard soft, concealable armor that covers an officer's front, back and sides.
Lansing officers also are issued a Glock 35 semi-automatic handgun ($489). Ontiveros said the Glock brand was popular among law enforcement agencies.
When Chief Steve Wayman first started out as a police officer, he had to purchase his own weapon, but he said he didn't mind because he got to carry what he wanted.
As police chief, however, Wayman said he preferred the new system.
"I like the department giving you a weapon because if you have to buy your own gun and all you can afford is a $200 weapon, you might get a gun that can't get the job done," Wayman said.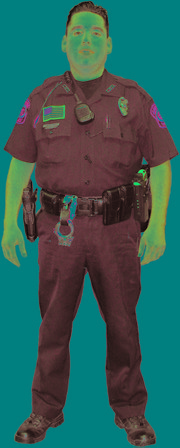 Wayman added that supplying the same gun to each police officer made it easier for him to stock ammunition and teach new officers to shoot.
Once each officer is given the equipment, it is the officer's responsibility to care for it. If a weapon starts to show considerable wear after a short period of time, the officer in possession of the weapon will have to replace it.
Other items officers receive include a duty belt, gun holster, pager and Taser holster. The department owns four Tasers, which cost $800 apiece, and officers check them out as they come on duty, Ontiveros said.
The only types of equipment not supplied to officers are footwear, undergarments, socks, and the shorts and yellow shirts that comprise summer uniforms.
"Other than that, there's really not anything we don't provide an officer," Wayman said.
Ontiveros said officers were required to wear black shoes, but the type was up to the individual. Summer uniforms are optional, but an officer can choose to buy one for $60 for the shirt and $30 for the shorts, Ontiveros said.
One Lansing officer, Sundae Holler, did have to purchase additional equipment. She said she bought her own belt because the supplied belt did not fit her smaller waist well. She also bought her own ammunition and handcuffs cases that attach to the belt, as the supplied cases were too wide to fit with the other equipment on.
The $3,200 price tag to outfit an officer is only an upfront cost, Ontiveros said. Though equipment may wear out, he said the only item replaced annually or more often was ammunition because officers will practice at the firing range a few times per year. Uniforms should last at least one to two years, and duty belts and holsters should last three to four years, Ontiveros said. He said the body armor should be replaced every five years, according to the manufacturer.
Wayman said the department would only replace items if they were obviously obsolete.
"We get as much mileage as possible out of our equipment," he said. "We won't replace shirts or something just because they aren't shiny anymore."
Two items Wayman said he would consider replacing in the future were radios and weapons.
The analog radios now in use have or soon will be discontinued by the manufacturer, Ontiveros said, because technology is steering toward digital radio systems. The weapons currently in use have been used for a decade, Wayman said.
"Here in a couple years, we may look at finding weapons that can better suit our needs," he said. "We've had them for 10 years, and eventually age catches up to everything."
Breakout
Outfitting a Lansing Police officer costs the city $3,209.77. Here are the biggest and smallest chunks of the cost.
Most expensive items issued to each full-time officer:
Radio $800
Body armor $550
Gun $489
Least expensive items:
Lansing Police patch $3
Collar brass (LPD pin) $10
Nameplate $12